Tenet Screening In Singapore Leaves Two Injured From Partial Ceiling Collapse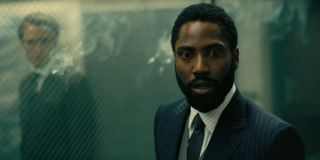 After patiently waiting through several delays, Tenet has finally released internationally on August 26th. And, while most theatergoers are more concerned about the current pandemic, it looks like another danger had been lurking at a theater in Singapore. Namely because two people have reportedly been injured from a ceiling collapse.
The collapse happened on Sunday at 5 PM local time at the Shaw Theatres NEX Mall, according to Deadline. A ventilation duct came through the ceiling and crashed on top of theater attendees at the time. The two injured were treated by paramedics and one was taken to the hospital by police. The theater has now been closed.
One attendee said a piece of the ceiling hit them in the head and they thought the sound of the crash was from the sound of the speakers, which isn't altogether surprising since many have reported Christopher Nolan's overly loud use of sound in Tenet. After all, the movie is known for having stunts, guns, and explosions. But everything going on right now, having the ceiling fall down on you while watching a movie is a new type of unfortunate.
Warner Bros.' plan to release Tenet internationally came as something of an unexpected surprise since the tradition has been for new movies to hit US theaters first. So with that, Singapore, among many other countries, because part of cinematic history in a way. Tenet is currently set to release in US theaters on September 3rd, 2020.
Since shutting down earlier this year, theater chains have been eager to reopen again. With the pandemic seemingly under more control internationally and theater chains reopening there, it seemingly made sense to get Tenet in as many theaters as possible. Especially considering the massive box office appeal of Christopher Nolan.
Following current events, Tenet has long been considered the right kind of blockbuster to premiere when theaters reopen, hoping perhaps that it'll convince theater-goers to take the risk and head to the theater. For his part Christopher Nolan, a staunch supporter of theaters, wanted Tenet to premiere at its original date of July 17th and reportedly disagreed with the delay.
Nevertheless, here we are. Tenet has released internationally and will be wide in US theaters very soon. And in these crazy times, it has a ton of pressure to perform, both critically and at the box office. On top of all that, no one wants the added stress of rare structural problems inside a theater.
Despite the pressure, Christopher Nolan looks to, once again, be meeting the occasion and overcoming the odds. Overall critics have been giving Tenet warm reviews. CinemaBlend's own Sean O'Connell in his review gave the movie a perfect score and said, "It's hard to imagine movies getting much better than this." For more movie news, be sure to stay tuned to CinemaBlend.
Your Daily Blend of Entertainment News