Mulan Star Reveals Her Male Look In The Movie Was Really Convincing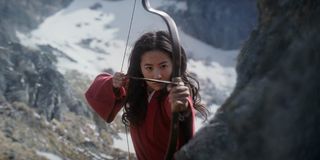 Mulan's core story has always been compelling. Following a daughter who disguises herself as a male soldier to save her father, it creates quite a bit of tension in the story, as one of the biggest challenges for Mulan is to convince the men around her that she's just like them. But this didn't seem to be much of a problem for the production's makeup and costume department, as Mulan star Yifei Liu revealed recently that her male look was very convincing.
Even though you might think that making Yifei Liu look like a man would be difficult, she actually said it wasn't that hard at all. According to AsiaOne, with a little help from makeup and costuming, Yifei Liu blended right in with the other guys. Here's what she had to say about it:
It's one thing to fool an audience with movie makeup, but quite another when a co-star is convinced too. It sounds like Yifei Liu was able to use that to her advantage and got into the headspace of her character.
After a year-long search by Disney, Yifei Liu, also known as Crystal Liu, was cast in the titular role of Mulan back in 2017. She primarily has starred in Chinese films, but you might recall seeing her in movies like Ip Man 3 and The Forbidden Kingdom.
During the Mulan audition process, Disney reportedly looked at over 1,000 possible actors. When it came time to looking at Yifei Liu, director Niki Caro admitted to putting her through a grueling audition process, saying "she needed a warrior." So Caro made Yifei Liu go through a tough physical assessment, complete with push-ups, pull-ups and more.
Like most movies right now, Mulan has suffered a series of setbacks and delays. It was originally set to release theaters back in March, but was subsequently delayed to July 24 and then pushed further back to August 21. Then, in a surprise twist, Disney decided to scrap its main theatrical release in the U.S. altogether and instead send it directly to Disney+, but with an additional cost of $29.99. Disney+ subscribers will be able to access the movie when it releases on September 4.
Earlier this year, we got a final look from the trailer, giving us a decent taste of what the live-action version of Mulan might bring to the table. And while it's only a snapshot, it still has a solid chance of being of Disney's best live-action remakes yet. For more movie news, be sure to stay tuned to CinemaBlend.
Your Daily Blend of Entertainment News