Mission: Impossible 7 Is Now Facing More Backlash, This Time Over Boats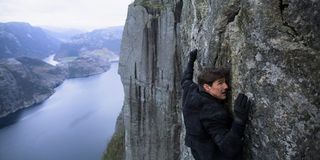 Mission: Impossible 7 can't seem to catch a break. Back at the beginning of August, director Christopher McQuarrie addressed a controversy regarding the plan to blow up a bridge in Poland for the film. Now, it looks like they might be facing a different kind of backlash, but this time with boats.
The Mission: Impossible franchise has long been a global espionage action thriller, featuring locations all over the world. So, right now, Mission: Impossible 7 is filming in Norway. According to Variety, the production didn't consider the hotels good enough to house their crew, due to COVID-19 concerns, so they rented two cruise ships from the company Hurtigruten.
In fact, it was reported earlier this week that Tom Cruise himself had paid $700,000 to secure the ships. He reportedly wanted to ensure there weren't any more delays to the production and putting the crew in a "bubble" would help reduce the risk of someone getting sick. And that meant shelling out some serious money to keep everyone safe.
But things supposedly could take a turn as two Norwegian unions have reported Hurtigruten to the police, claiming the company is paying Filipino workers low minimum wages on board the ships. These allegations have yet to be verified, so stay tuned. Still, this report indicates yet another set back for the delayed blockbuster.
Previously, Mission: Impossible 7 came under fire for allegedly working with Polish government officials to blow up one of their bridges for a scene in the movie. The old bridge, built-in 1909, is considered structurally unsound and decommissioned in 2016. The local government wanted to destroy only part of the bridge and rebuild it as a tourist destination. This plan came under opposition from locals, Silesian Monument Conserver, and The International Committee for the Conservation of the Industrial Heritage, all wanting the bridge to be considered a historical monument.
However, irector Christopher McQuarrie claimed that an individual that wanted a job on production but wasn't hired decided to penalize them by stirring up the controversy online. Unless something changes, it's doubtful that Mission: Impossible 7 will feature the Polish bridge explosion. Not that the franchise won't contain plenty of explosions and thrilling sequences.
Like most movies during these times, Mission: Impossible 7 has also seen significant setbacks, production shutdowns, and delays. Filming has been on and off again for the movie all the way back in February, with Tom Cruise sometimes doing a few stunts despite the pandemic. Things grew so dire that Tom Cruise himself met with UK government officials to see if they could lift restrictions for their production.
With so many problems and setbacks, the release dates for Mission: Impossible 7 and 8 have been pushed back from July 23, 2021 and August 5, 2022 to November 19, 2021 and November 4, 2022, respectively. Be sure to check back to CinemaBlend for more developments on this story.
Your Daily Blend of Entertainment News
Thank you for signing up to CinemaBlend. You will receive a verification email shortly.
There was a problem. Please refresh the page and try again.