Daisy Ridley Has A Lot Of Gigs Booked After Saying She Had Trouble Booking Gigs Post Star Wars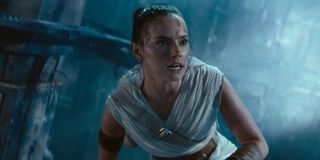 The stars of the last three Star Wars films have proven that navigating a post-franchise career can be a bit of a challenge. While they've found a variety of ways to expand their acting horizons, they've also been open about the unique difficulties they faced. While Daisy Ridley recently said that she's struggled to find post-Star Wars acting gigs, it looks like her luck may be shifting -- because she's got a slew of new projects in the works.
In August, Daily Ridley confessed that after she wrapped up her work on The Rise of Skywalker, she went on several auditions for new roles but ended up not getting any of them. The experience was frustrating for her and spoke to the fact that even if you've starred in one of the most successful franchises of all time, you're still not guaranteed big career moves afterwards.
However, it appears that Daisy Ridley's career drought was short-lived. The Hollywood Reporter revealed that she's slated to star alongside Kristin Scott Thomas and Nina Hoss in the upcoming Women in the Castle. The film, based on a 2017 best-selling novel of the same name, will take place in post-World War II Germany and deal with the aftermath of Nazi occupation.
While Women in the Castle isn't expected to begin filming until early 2021, Daisy Ridley has nabbed some other roles that could keep her busy in the meantime. According to IMDB, she is attached to eight additional projects that are slated for release in the next couple of years.
Some, like the video games Twelve Minutes and The Dawn of Art, have already been completed. Others, like the film Chaos Walking and the documentary short Asteroid Hunters, are in post-production.
Daisy Ridley is involved in a handful of other projects that are either announced or in pre-production. There's the animated film The Inventor and Bad Robots' Kolma, in which she will play the titular lead character. Then there's A Woman of No Importance, which tells the story of American World War II spy Virginia Hall.
So while Daisy Ridley may have lamented a run of bad luck with auditions after Star Wars, it seems like she ultimately has some solid work lined up in the coming months. She's not the only Star Wars cast member who's keeping busy. Kelly Marie Tran was recently cast as the lead in Disney's Raya and the Last Dragon. Adam Driver will appear in Ridley Scott's upcoming biopic Gucci. And John Boyega, who's been equally open about the struggles he's faced in moving on from Star Wars, has also been hard at work on projects like the upcoming Small Axe.
What kind of roles would you like to see Daisy Ridley in now that she's finished with Star Wars? Let us know in the comments!
Your Daily Blend of Entertainment News