Daisy Ridley Movies: An Updated List Of What The Actress Is Doing After Star Wars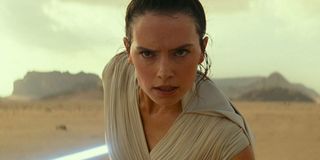 When an actor or actress stars in a massive franchise such as Star Wars, the fame comes along nearly instantly, which is what happened for the likes of Daisy Ridley, John Boyega and Kelly Marie Tran, among others. Now that Star Wars: The Rise of Skywalker has had its theatrical run and this new trilogy has wrapped, the question remains: What are the actors going to do next?
For Daisy Ridley, the answer is "a lot." The actress already has a slew of projects lined up, so if you've been wondering where you will be able to see her now that she's said goodbye to playing Rey formerly-no-last-name-Skywalker, we have you covered. First up? Doug Liman's next movie.
Chaos Walking Starring Tom Holland And Daisy Ridley
Chaos Walking isn't actually set for release until 2021, but the Doug Liman movie has already filmed. Based on a book series by Patrick Ness, the movie had been delayed once thanks to reshoots before it finally landed a theatrical slot.
However, the Lionsgate movie should be one to keep an eye on given its insane cast. Daisy Ridley and Tom Holland star as Viola and Todd respectively and the cast will be rounded out by David Oyelowo, Demian Bichir, Mads Mikkelsen, Cynthia Erivo, Nick Jonas and Sons of Anarchy creator Kurt Sutter. It's set in a dystopian world where people can hear each others' thoughts thanks to something called The Noise.
When To Catch It: January 21, 2021
The Ice Beneath Her (Maybe) Starring Daisy Ridley
The latest news coming down the Hollywood pipeline is that Daisy Ridley will star in The Ice Beneath Her. The new role for Ridley is not confirmed, but the star is currently in talks for the STX film.
The movie is based on a 2015 book about a criminal profiler who is solving a murder that is similar to another murder that happened a decade ago. We'll keep you updated once casting moves forward in earnest, but given the popularity of crime dramas on the big screen right now (Daisy Ridley was in fact in one fairly recently with Murder on the Orient Express), this sort of movies seems like a good fit.
When To Catch It: No release date yet, but we'll keep you updated while it's TBA.
A Woman Of No Importance About Real-Life Spy Virginia Hall
Unlike her sci-fi trilogy, A Woman of No Importance would star Daisy Ridley as Virginia Hall, a WWII spy known as "The Limping Lady" who is the subject of the book A Woman of No Importance: The Untold Story of the American Spy Who Helped Win World War II.
Daisy Ridley would headline the movie, which would mark her first time in a leading role in a biopic capacity. If it moves forward, it's being set up at Paramount.
When To Catch It: Originally announced in 2017, it's been in the TBA phase for a bit.
Kolma Starring Daisy Ridley
Paramount Pictures has also announced Kolma, a movie that would feature Daisy Ridley as a young woman named Tamara Kolma who loses her partner in a car accident. When she dies years later, she is given the choice to return to the past and be young again or to reunite with the boyfriend who died whom she once loved.
J.J. Abrams is on board to produce and it looks as if Kolma will be directed by Marielle Heller, who has also worked on the script.
When To Catch It: TBA. The movie was announced years ago when Ridley was still working on Star Wars, so we'll have to wait and see if it ultimately gets off of the ground.
Technically, if we're looking into every single minor thing Daisy Ridley has filmed for release after Star Wars: The Rise of Skywalker, she's already had a couple of things crop up. Both were voiceover narrating projects, the first for the video game The Dawn of Art. The second was for a documentary short recently released called Asteroid Hunters, in which she voiced the narrator.
All in all, there are plenty of paths a person can go after being in a major franchise. You can go the indie route the likes of Harry Potter actor Daniel Radcliffe and Divergent's Shailene Woodley have favored. You can take more tentpole films, as Twilight star Robert Pattinson eventually did with The Batman (though its worth noting a lot of his other choices have been weird).
All in all, it's pretty cool to really jumpstart your career in a movie like Star Wars: The Force Awakens and then head out elsewhere into the world of movies, even if they aren't set in a galaxy far, far away.
Your Daily Blend of Entertainment News
Reality TV fan with a pinch of Disney fairy dust thrown in. Theme park junkie. If you've created a rom-com I've probably watched it.