Tenet Just Nabbed The Lowest CinemaScore For A Christopher Nolan Film Since The Prestige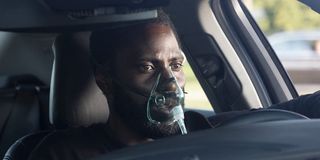 For the past two decades, Christopher Nolan has been delivering films that have been widely praised by both audiences and critics alike. To date, all of the Dark Knight director's movies have been warmly received and have gotten a high ratings from online sources. With that said, it looks like audiences aren't digging Tenet as much as his other films, as it just earned Nolan his lowest CinemaScore since The Prestige.
As of right now, Tenet has a B rating on CinemaScore. While that's not anything to be ashamed of, for Christopher Nolan, it matches up with Insomnia and The Prestige as one of his lowest-ranked movies. Unsurprisingly, The Dark Knight and The Dark Knight Rises rank among the highest, with both having A ratings.
Meanwhile, on Rotten Tomatoes, Tenet is currently sitting about even among critics and audience members with 74% and 79% scores, respectively. So most viewers seem to be in agreement regarding how they feel about the movie.
Of course, CinemaScore and Rotten Tomatoes aren't an exact science and aren't always a firm representation of viewers' feelings. So what are critics saying about Tenet? Well, criticism of the film seems to vary, with some highly praising it while others come down on it a bit more.
CinemaBlend's own Sean O'Connell gave it a 10/10 in his review, calling it "a hold-on-by-your-fingernails thrill ride with subtle touches of wit, romance, suspense, tragedy, determination and cinema-driven awe woven throughout it." However, other reviews have criticized its weak characters and heavy exposition.
Aside from CinemaScore rankings, Tenet is looking to ignite the box office, which is understandable considering how much it cost to make. The box office, of course, is just revving back up after being shut down for months due to current events, and Tenet is one of the first movies to premiere with theaters back open. While there had been some concern that people might not go back to theaters yet, early international box office returns have been pretty impressive. So far, the film has only had a modest effect on the domestic box office, though.
Tenet was originally scheduled to release on July 17th, but Warner Bros. delayed it and then made the unprecedented move to release it internationally before having it open in the US.
Christopher Nolan's films always seem to be highly-anticipated but, with Tenet, there was a heightened expectation that it might bring something new and fresh to the spy genre. And depending on where you're standing, that might be an understatement.
With the wait is over and Tenet now in theaters, the next true test will be if it can succeed at the box office in the US. Be sure to stay tuned to CinemaBlend for the latest.
Your Daily Blend of Entertainment News
Thank you for signing up to CinemaBlend. You will receive a verification email shortly.
There was a problem. Please refresh the page and try again.