How The Death On The Nile Cast Reacted To The Karnak On Their First Day Of Shooting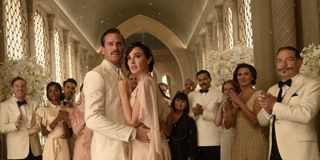 Actors are like moviegoers, particularly in the respect that if what they see in front of them looks as practical as possible, they're more likely to buy into the illusion. Death On The Nile star/director Kenneth Branagh knows this pretty well, as his latest film as Hercule Poirot further reinforces the man's belief that sometimes, building the boat is what separates a good film from a great one. And build the boat he did, as he had the S.S. Karnak built almost totally as one cohesive whole; a fact that, on the cast's first day of shooting on that particular set, enthralled them as much out of character as it did in character.
On behalf of CinemaBlend, I was part of a lucky set of journalists who, in the midst of last December, were invited to the UK to see some of the sets and behind-the-scenes materials on how Death on the Nile was put together. The beginnings of that visit brought our group through a room of concept art and stills from the then-in-production film, which eventually lead to our own encounter with the Karnak itself. But before we got there, we were privy to some amazing chats with some of the people working hard on bringing Kenneth Branagh's second film in the potential Agatha Christie Cinematic Universe onto the big screen.
One of those people was production designer Jim Clay, the man who helped Branagh bring the world of not only Murder on the Orient Express to life, but also this year's Artemis Fowl. With an extended experience working together, there's obviously a connection between both Clay and Kenneth Branagh's feelings in terms of getting everything on screen as practically as possible. But more importantly, particularly in terms of Branagh's shooting schedule with the cast, he wanted their first time working with the very real Karnak to be as impressive as their character's introduction to the mythic craft itself. Jim Clay said as much when he told us the following:
As if choreographing a day of shooting for a massive film like Death on the Nile wasn't involved enough, Kenneth Branagh added an extra layer of mystique by having his killer cast, including luminary members like Gal Gadot, Armie Hammer, Letitia Wright and Annette Bening, wait to see the boat themselves while they were shooting. It's a moment that was undoubtedly well worth the wait, as when myself and my fellow journalists got to the Karnak ourselves, it was a massive feat to behold.
Just as Jim Clay had said, pretty much everything about the boat you see on the film existed in real life. The state rooms were fully kitted out, with everything from stationary to actual furnishings. One could walk all around the boat and find themselves upstairs in the main hall that is shown in both celebration and turmoil during Death on the Nile's theatrical trailer. And much like the cast's first experience with the Karnak, this special moment was saved for the very end of the day, which saw a cocktail reception and some milling about for answers to those last-minute questions. To refresh yourself on how impressive the S.S. Karnak really is, take a look at the trailer for Death on the Nile, as provided below:
The love and care put into the Karnak most certainly wasn't just for show, though it didn't hurt to have a vessel to show off to a group of reporters in a UK soundstage. Even seeing the Karnak again in the trailers for Death on the Nile transported me back to that day where all of the questions asked and answered throughout the day led us all to that spectacular ship. You have to wonder if that's the same experience Kenneth Branagh and his cast have when looking back on it themselves, because when you get to go to work on a 230-foot long, almost 240-ton ship, it's all the more impressive when almost all of it is functional. Except, as Jim Clay pointed out, the ship couldn't really float or move; and in another twist, the galley kitchen and cold store section were built as separate sets. As it turns out, those particular locations see a lot of action, and removing sections to film and stage was key to what we're all about to see in Death on the Nile.
Building a vessel like the Karnak is no easy feat. It's a costly endeavor, especially in an age where green screen and other strategies can save on budgetary spend make it almost seem grandiose if you hear the right people talk about it. It doesn't feel that way with Death on the Nile, and certainly not in the way that Jim Clay talks about designing and building the beast, as well as seeing how Kenneth Branagh put that approach to good use. Just as he gave Murder on the Orient Express a special touch by combining cutting edge technology with old fashioned craftsmanship, the world of the next Hercule Poirot ensemble murder mystery reinvents an Agatha Christie classic, and makes all the difference while doing so.
It's a big move on a film that's looking to play to win at the box office, as Death on the Nile is following up a pretty impressive act. Thanks to its predecessor making some sneaky money over a longer period of time, and with a Star Wars movie that arrived in theaters a little over a month later, there's a boatload riding on this new film. If the current plan to see Death on the Nile set sail into theaters, in the most seductive way, on October 23, then we won't have to wait too much longer to see that action. But in the meantime, you can catch our continuing coverage of all things Poirot on CinemaBlend!
Senior Movies Contributor
CinemaBlend's James Bond (expert). Also versed in Large Scale Aggressors, time travel, and Guillermo del Toro. He fights for The User.
Your Daily Blend of Entertainment News
Thank you for signing up to CinemaBlend. You will receive a verification email shortly.
There was a problem. Please refresh the page and try again.