Everything Fans Should Know About Stan Lee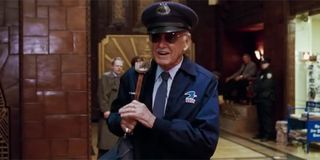 (Image credit: Marvel)
When you think of your favorite personalities in Marvel comics, perhaps Iron Man or Spider-Man or Black Widow pop into your mind. It is only fair, however, that when those names enter your mind, you also picture their creator, Stan Lee.
Avengers: Endgame was a momentous and thrilling, yet bittersweet, flick for the Marvel Cinematic Universe. Not just because it marked the end of an era in the franchise 11 years in the making, but it also saw the final cameo appearance of Stan Lee.
The comic book pioneer made a name for himself as the face of Marvel Comics, having been a landmark contributor to the company since its infancy and eventually becoming its editor-in-chief for decades. Until his death, he was a living legend and hero to the millions who read his characters' stories and watched the films his work inspired.
Stan Lee will never be forgotten thanks to the legacy he has left behind, but what else do you know about him outside of his MCU cameos? Take a look.
What Is Stan Lee Famous For?
The question really should be, what is Stan Lee NOT famous for? Well, perhaps he is not famous for being a successful sushi chef or winning American Idol, for instance. Yet, throughout his long career as a comic book writer, editor, and publisher at Marvel comics, Lee still managed to achieve plenty of other highly public accomplishments.
Stan "The Man" Lee, born Stanley Martin Lieber in Manhattan on December 28, 1922, to Romanian immigrants, became involved with Marvel Comics in its infancy in 1939, when it was still called Timely Comics. He would become a key player in the creation of many of the comic book giant's most iconic characters throughout the 1960s, some of which were a collaboration with his brother, Larry Lieber.
After his official retirement as a publisher in the mid-1990s, Stan Lee still refused to slow down, making appearances in films and television shows, and even trying his hand at reimagining some notable DC titles in the early 2000s. He would famously endure a decades-long fallout with Marvel comics artist and Spider-Man co-creator Jack Kirby over creative credit, a hit-or-miss initial attempt to translate Marvel properties to film and TV in the 1980s, and a highly publicized lawsuit against his allegedly abusive former manager, Keya Morgan.
Before his death, Stan Lee would also go on to win many awards for his work, including the National Medal of the Arts, The Will Eisner Hall of Fame, and a spot on the Hollywood walk of fame. He also easily became the biggest name in the comic book industry that did not wear a mask.
What Did Stan Lee Do At Marvel Comics?
The question should be: What did Stan Lee NOT do at Marvel Comics? Honestly, "The Man" was quite the jack of all trades for the comic book publishing giant, starting out all the way at the bottom of the totem pole.
With help from his maternal uncle Robbie Soloman, Stan Lee got a job as an assistant at the newly established Timely Comics, a division of the scandalous Pulp Magazine, in 1939. The position required him to deliver writers' lunches, proofread their pages, and make sure ink wells were full for dipping, as the artists needed to do with their pens.
He achieved his aspirations in 1941, making his debut as a comic book writer under the pseudonym "Stan Lee" (long before it became his legal name) in Captain America Comics #3, which introduced Steve Rogers' signature shield throw. That same year, after Timely's editor-in-chief Joe Simon left following a nasty dispute with publisher Martin Goodman, Goodman gave then 19-year-old Lee the position.
In 1942, Stan Lee was forced to temporarily hand off his editor-in-chief position at Timely to Vincent Fago until 1945 while he was on military leave. Lee served as a "playwright" for the Army's Training Film Division, which also included future artistic heavy-weights such as Frank Capra (director of It's A Wonderful Life), Charles Addams (creator of The Addams Family), and Theodor Geisel, who you might know better as "Dr. Seuss."
Stan Lee returned to Timely as editor-in-chief in 1945, a position he held until 1972 when he took over Martin Goodman as a publisher. It was during that time when, in 1961, Lee relaunched the company, which had been known as Atlas throughout the 1950s, with a new goal of creating more varied and complex superhero characters and stories under a new name: Marvel.
The Marvel Comics revolution brought upon a revolution of the comic book industry in general in the 1960s and so on. Until he would step away from his regular duties at Marvel in 1996, Stan Lee had a hand in introducing the inclusion of superheroes of more diverse cultures, he helped reform the Comics Code Authority in 1971 to allow more challenging subject matter, and he fiercely pushed for the publishing of stories that attacked social injustices of the time.
Above all, he is credited with helping create some of the most endurable comic book characters of all time. Such as...
What Superheroes Did Stan Lee Create?
The question should be, what superheroes did Stan Lee NOT… You know what? I think you get the picture.
Basically, if you were to throw a dart at a photo collage of every Marvel character ever created, there is at least a 90 percent chance that whatever character you would hit has Stan Lee's name on it. The comic book industry, and the movie industry as well, owe more to "The Man" than is even fathomable with the amount of heroes and villains he thought of and helped develop.
Marvel Comics' first superhero family, The Fantastic Four, was Stan Lee's first collaboration with Jack Kirby in 1961, before the dynamic duo introduced the world to one the most indestructible characters, The Incredible Hulk, in 1962. That same year, Lee, Kirby, and Lee's brother Larry Lieber would reimagine the character of Norse mythology, Thor, as a superhero, as well as introduce Ant-Man, then the alter-ego of inventor Hank Pym.
However, Marvel's most endurable character to come out of 1962 was from the mind of Stan Lee and Steve Ditko. It was a 15-year-old kid named Peter Parker who, after a radioactive spider bite gives him amazing abilities, takes on the persona of Spider-Man, now brought to life in his most accurate cinematic depiction yet by Tom Holland.
In 1963, Stan Lee, Jack Kirby, Larry Lieber collaborated with Don Heck on the development of Iron Man. A much subtler version of Tony Stark than Robert Downey Jr.'s cinematic adaptation at first, Lee invented Iron Man as a way to explore Cold War themes.
Stan Lee and Jack Kirby also struck gold in 1963 with their next "family" of heroes, The X-Men, featuring Archangel, Beast, Cyclops, Iceman, and Jean Grey (then known as Marvel Girl). The team of mutants, led by Professor Charles Xavier, were heavily inspired by the civil rights movement at the time, with Xavier representing the philosophies of Martin Luther King and his adversary Magneto inspired by Malcolm X's opposing civil rights philosophies.
Two of the Avengers' best pals, Natasha Romanoff and Clint Barton, were both created in 1964. Stan Lee and artist Don Heck first introduced Barton under his costumed moniker Hawkeye as a reluctant villain in Tales of Suspense. While the Black Widow name has existed since 1940, Lee, Heck, and scripter Don Rico reimagined her as Natasha Romanoff in another issue of Tales of Suspense.
Stan Lee and Jack Kirby made history by creating Black Panther, the first black superhero in comic book history. T'Challa, king of the fictional African nation of Wakanda, was first introduced in a Fantastic Four story in 1966.
As a fun bonus fact of trivia: Did you know that Stan Lee was one of the people behind Groot? The tree-like creature, who would eventually became a favorite among fans of Guardians of the Galaxy, was originally conceived as a villain in Tales to Astonish by Lee, Jack Kirby, and Larry Lieber.
This is barely scratching the surface of Stan Lee's superhero creations, actually. I could go on talking about Daredevil, Hawkeye, Black Widow (originally a 1940 creation reimagined as Natasha Romanoff in 1964), Punisher, and countless others, but there are still more questions to cover.
What Was Stan Lee's Net Worth?
Stan Lee's ownership of his countless Marvel comic character creations may have you assume he was sleeping on moneybags in a mansion built with stacks of cash. Do not get me wrong: he was loaded, but not even Avengers: Endgame opening weekend loaded.
Throughout the years following his career at Marvel, Stan Lee received the decidedly comfortable lifetime salary of $1 million per year from the company as its chairman emeritus, a more symbolic position than anything else. However, from Disney's acquirement of Marvel Entertainment, Lee received a whopping nothing.
At the time of his death at 95, Stan Lee's overall net worth was recorded at approximately, $50 million. That sounds like a mistake given the empire this man is mostly responsible for, but he was employed by the publisher, not the merchandisers or the studio making the movies. Yet, Stan Lee was the kind of person whose wealth would better be measured by accomplishment, admiration, and life itself.
Who Was Stan Lee's Wife?
With Marvel comics' costumed vigilantes set aside, the story that Stan Lee was most proud to be a part of was his romance with his wife of nearly 70 years.
Joan Lee (née Boocock) was born February 5, 1922, in Gosforth, England. She was working as a hat model in 1947 around the time she met Stan Lee, at which point she was already married. After two weeks of dating Lee, Joan annulled her previous marriage and then immediately married Lee on the same day, December 5, 1947.
Joan would find a career by indulging in her husband's creations, voice acting in animated series adaptations of Fantastic Four and Iron Man in the 1990s. She even made a live-action cameo appearance alongside Stan Lee in 2016's X-Men: Apocalypse. Director, and friend to the Lee family, Kevin Smith would often refer to Joan as Stan's "Marvel Muse."
On July 6, 2017, Joan and Stan Lee's romance ended with Joan succumbing to complications related to a stroke. Lee was devastated by the loss, appearing to have slowed down significantly in health following Joan's death until his death the following year.
That does not mean that death was the end of Stan and Joan Lee's legacy. Fans were treated with a sweet, posthumous reunion for the couple, digitally recreating Joan's likeness and de-aging Stan to his 1970s appearance in Avengers: Endgame.
Did Stan Lee Have Any Children?
Stan Lee and his wife Joan were both survived solely by their daughter J.C. Lee. She was born Joan Celia Lieber in April 1950, and would eventually go onto a career in acting and film production.
However, Stan and Joan Lee actually had two daughters. Their first child, Jan Lee, was born in 1953 but sadly passed away three days later.
Does Stan Lee Do A Cameo In Every Marvel Movie?
Other than epic battles of hand-to-hand combat and the tease of post-credit sequences, fans of the Marvel Cinematic Universe most anticipate the appearance of the original man behind the franchise. Stan Lee reveled in doing cameos in the Marvel movies, which allowed him to live out his additional dream of being an actor.
His first live-action appearance in a Marvel movie adaptation as a hot dog vendor in 2000's X-Men began a tradition of casting Stan Lee in more big budget superhero films, earning brief spots in Sam Raimi's Spider-Man trilogy and other films in the early 2000s. It was Kevin Feige's MCU, however, that made a point to give Lee a memorable inclusion to every film in the franchise, his last being Avengers: Endgame.
In fact, given the success of the Marvel Cinematic Universe plus his many other big screen appearances outside of the franchise, Stan Lee is technically the highest-grossing actor in the world. 'Nuff said.
How And When Did Stan Lee Die?
Comic book fans had heavy hearts the day they lost their favorite Spider-Friend, the man whose imagination and talent gave birth to the most inspirational costumed heroes over many generations.
Stan Lee passed away on November 12, 2018, at Cedars-Sinai Medical Hospital in Los Angeles. California. He was 95.
The Marvel Comics legend and MCU cameo darling had been battling pneumonia earlier that year. The official cause of Stan Lee's death was recorded as cardiac arrest with respiratory failure and congestive heart failure as underlying causes.
For days after his death, tributes to Stan Lee from fans, colleagues, friends, and the actors who brought his creations to life on the big screen flooded the internet. The tributes have yet to stop. Jeremy Renner (Hawkeye) posted this video to his Instagram just this past May:
Stan Lee may have passed on, but we have not seen the last of him yet. He is the kind of icon with a legacy so rich and vast, through movies, comic books, and whatever else he inspired, that he will remain immortal.
Did you we leave anything out of our Stan Lee retrospective that we should have included? What is your favorite Stan Lee fact or memory?
Jason has been writing since he was able to pick up a washable marker, with which he wrote his debut illustrated children's story, later transitioning to a short-lived comic book series and (very) amateur filmmaking before finally settling on pursuing a career in writing about movies in lieu of making them. Look for his name in just about any article related to Batman.
Your Daily Blend of Entertainment News
Thank you for signing up to CinemaBlend. You will receive a verification email shortly.
There was a problem. Please refresh the page and try again.