A Massive James Bond Rumor Might Have Been Confirmed By The Latest 007 Video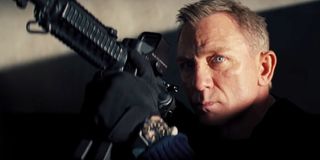 Throughout the extended wait for this year's 007 film, co-writer/director Cary Joji Fukunaga's No Time To Die, a massive James Bond rumor dropped onto the doorstep of the world. When some supposed call sheets from the 25th Bond story apparently leaked into private sale, the details of those pages delivered a bombshell that still has fans questioning whether or not it's true. And what's more, the latest video inviting the world to meet Rami Malek's Safin may have confirmed this massive happening in a subtle, but chilling manner.
We're being vague about this possibility, because if you don't want even the slightest hint of potential spoilers for No Time To Die, you can easily back out at this point and be on your way. Though it should be noted, everything we're about to discuss is unconfirmed speculation; and with the movie supposedly filming different endings to keep even the cast members on their toes, anything is still possible. So If you're still with us, we'll lift the veil and let the real fun begin.
The Massive Rumor That No Time To Die Has On The Books
Perhaps the greatest rumor about this particular entry in the storied espionage franchise is the fact that in the five years between Spectre and No Time To Die, Bond and his romantic partner, Dr. Madeleine Swann (Lea Seydoux), may have had a child together. With their relationship apparently breaking apart after the pre-credits sequence, and the gap in-between allowing this particular development to grow, it's possible that this hypothetical love child in question is at least as old as the gap between these two films.
Again, this development came from the sale of call sheets off of the No Time To Die set, and were reported on the internet. There's obviously still a chance that this twist could be nothing but a bit of misdirection, purposely leaked out into the world to have the world puzzling over how such a plot point would work in the constantly moving world of James Bond. But something that happened in the most recent video released by the marketing apparatus for the latest Bond film has us thinking that it could be confirmed.
Safin's Cryptic Response To Madeline Swann In The Latest 007 Video
Earlier this week, a video entitled "Meet Safin" gave us a better look at Rami Malek's big bad for No Time To Die. It was an intriguing collection of insights and scenes from the movie, bundled together with the exact level of hype you'd expect from selling a 007 adventure. And then, the video dropped one particularly cruel piece of teasing that started the wheels turning yet again on the theory in question. The following exchange is between Dr. Swann and Safin:
After Madeleine, in tearful defiance, swears she's already lost all love in her life, Safin turns to her with a cold smirk on his face. It's the knowing look of a man who knows his opponent's hand, without even having to see it for himself. Should No Time To Die's villain be anyone to be trusted to get to the heart of his enemy's deepest secrets, which is a trait a lot of Bond baddies seem to share in this modern age, James Bond just might have a child out there. That's also true if Dr. Swann's personal history is to be trusted as well.
The Many Losses Of Dr. Madeleine Swann
Dr. Madeleine Swann says that she's lost everyone she's ever loved by the time No Time To Die kicks off. Who exactly she's lost is a very specific handful of people whom we know about thanks to backstory given in Spectre, as well as what we know about this next installment in the James Bond series. Losing her mother to the dissolution of her parent's marriage, the first major loss we actually saw on camera was that of her father, Mr. White (Jesper Christensen). Though she was long isolated from her father, seeing his suicide replayed for her displeasure in Blofeld's lair caused a plenty tearful response. So both parents are out of the picture, and from what we understand, there aren't any siblings in Madeleine's life.
Which leads to the last loss, which is the presumed break-up that James and Madeleine endure in No Time To Die. A relationship that looks like it's endured quite a bit of stress, that scene where Bond stops dead in his tracks when he sees the good doctor in the field is all it takes to tell us that their potential marriage has either ended completely or is heavily on the rocks. So unless there's a new member to Madeleine's family who we don't know about, or Safin has some sort of weird connection to her past that we're not aware of, it seems that the only person left to be used as leverage against Dr. Swann is this unknown child waiting in the shadows.
Speculation is the one word we'd like to leave you with in closing, as the world of spies is always full of secrets waiting to be revealed. Even if the truth turns out to be something way different, or absolutely spot on, we still don't know everything about No Time To Die just yet. We'll get to partake in that particular experience rather soon, as the movie is currently slated for theatrical release in the U.S. on November 20, though that might change, along with the theories we've laid out above. But whenever news breaks and plans shift, you can be sure we'll report back with the details.
After all, you can always count on the fact that James Bond will return to CinemaBlend, no matter who may be playing the part, or what new and exciting twists may be in play. And of course, we'll keep you updated on all sort of other film-related news items as they trickle in.
Your Daily Blend of Entertainment News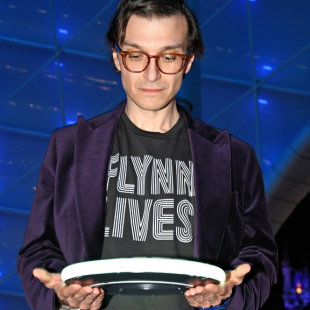 Senior Movies Contributor
CinemaBlend's James Bond (expert). Also versed in Large Scale Aggressors, time travel, and Guillermo del Toro. He fights for The User.