Ruth Bader Ginsburg Actress Felicity Jones Pays Tribute To Late Justice With Sweet Message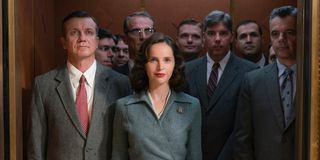 After Ruth Bader Ginsburg passed away on Friday, September 18, tributes to her life and her impact poured in from around the globe. While many celebrities and public figures sent their condolences in the wake of the news, one with an especially personal connection to the Supreme Court Justice also weighed in. Felicity Jones, who portrayed Ruth Bader Ginsburg in a biopic, offered her unique insights into her legacy.
Felicity Jones' portrayal of Ruth Bader Ginsburg earned her positive reviews when On The Basis of Sex was released in 2018. And it's clearly a role she kept close to her heart. In a statement to TODAY, she offered her thoughts on the late justice's life and legacy:
Felicity Jones' statement is clearly heartfelt and, in many ways sums up how all those who mourn her feel. It's understandable why she would feel a deep connection to Ruth Bader Ginsburg, too. On The Basis of Sex told the story of Ruth Bader Ginsburg's early life as a law student and her struggles to begin a career. The film shows her having to change her career plans after graduation because few law firms wanted to hire women as lawyers in the 1960s.
After she was unable to find employment as a lawyer, despite being one of the best in her class at Harvard Law School, she first became a law professor. However, she eventually found a way into legal practice and focused her attention on challenging laws that discriminated against women.
While On The Basis of Sex only covers a small portion of her life, the film illuminates the pivotal role she played in defending gender equality early in her career. It wasn't the only film made about the legal icon's life. In the same year, the documentary RBG was released. It, too, detailed the Supreme Court Justice's career trajectory and highlighted the impact she's had on the American criminal justice system as the second woman to serve on the Supreme Court.
Ruth Bader Ginsburg was appointed to the United States Supreme Court in 1993 by former President Bill Clinton. She was one of the most senior members on the bench, and known for delivering progressive stances on many pivotal cases surrounding issues of equality and discrimination. She died in Washington D.C. due to complications from pancreatic cancer. Ruth Bader Ginsburg was 87 years old.
Your Daily Blend of Entertainment News