Jurassic World: Laura Dern And Jeff Goldblum's Latest Update From The Set Has A Deeper Message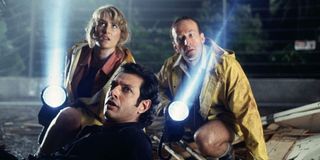 As you may already know, filming for Jurassic World: Dominion is currently underway. And to the delight of many fans, the highly anticipated entry in the Jurassic Park franchise is bringing back tons of past actors, including Sam Neill, Jeff Goldblum and Laura Dern. But when they're not running away from dinosaurs, these three make sure to keep the fans up to date on social media. This time, their update has a deeper message. Take a look:
This hidden message on Instagram might be tough to decipher, but I'll take a quick crack at it—I think they want everyone to go vote. Now how can you argue with that? As Laura Dern mentioned in her post, it's National Voter Registration Day. Plus, Election Day will be here before you know it. So there's no better time than the present to heed Dr. Ellie Sattler's words.
Though we've known for some time that Laura Dern would return for Jurassic World: Dominion, she made it truly official with a previous update on social media back in August. She teased being on set by taking a photo of her chair with her character's name on it.
Jeff Goldblum and Sam Neill, for their part, have also been updating fans while taking a break from the Jurassic World: Dominion set, and in the most joyful way possible. They recently delighted the internet by posting a video of themselves singing a duet on the piano, and then posting even more sweet videos. Do we get much new information about the movie? Not really, but it's hard to care.
Like most movies right now, Jurassic World: Dominion was forced to shut down due to global events. To get things back in gear, the production put rigid safety protocols in place to keep everyone safe. Jeff Goldblum said earlier that they were given 109 pages of details that included things like testing. Reportedly, the production spent $9 million to make it all happen, including ordering somewhere around 18,000 tests and having the cast and crew quarantine in a hotel.
Though there were some false reports that Jurassic World: Dominion had shut down again, it seems like things are still moving along. Jurassic World: Dominion is being directed by Colin Trevorrow and will likely be about Chris Pratt and Bryce Dallas Howard's characters teaming up with Sam Neill, Jeff Goldblum and Laura Dern as they continue to deal with dinosaurs running loose across the world.
As of now, Jurassic Word: Dominion is expected to release on June 11, 2021, but considering the ever-changing landscape, you never know if that date might end up getting shifted. As always, be sure to stay tuned to CinemaBlend for the latest in movie news.
Your Daily Blend of Entertainment News
Thank you for signing up to CinemaBlend. You will receive a verification email shortly.
There was a problem. Please refresh the page and try again.