Jurassic World: Dominion's Jeff Goldblum And Sam Neill Can't Stop, Won't Stop Posting Sweet Singing Videos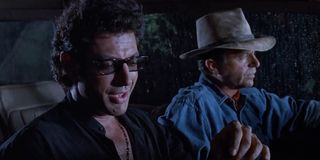 During their time off on the set of Jurassic World: Dominion, Jeff Goldblum and Sam Neill have been enjoying their fateful reunion as a delightful duo by the piano, singing together. Well, these two Jurassic Park titans are at it again, continuing to post sweet singing videos. Because who doesn't need more joy right now?
Since coming aboard the Jurassic World: Dominion production, Sam Neill has been providing updates of the project on his social media. Recently he's just been posting videos of him and Jeff Goldblum singing classic songs together. And it's an absolute delight. Check it out:
I can't think of a better video to bring someone joy today. The song they're singing is "A Fine Romance," written for the musical Swing Time, starring Fred Astaire and Ginger Rogers. Someone get Sam Neill and Jeff Goldblum on a traveling tour and maybe even get them some kind of Netflix Christmas special while they're at it. Their little act is absolute gold.
Sam Neill and Jeff Goldblum haven't been together in a movie since the original Jurassic Park back in 1993. Jeff Goldblum returned to Jurassic Park: The Lost World and Sam Neill came aboard Jurassic Park III, but never together. Now life has found a way to reunite these two legends and they've given us way more than we bargained for with these sweet videos.
Jurassic World: Dominion looks to be quite a film, bringing back more characters than ever before. On top of Sam Neill and Jeff Goldblum returning, Laura Dern and BD Wong will also be coming back. These original characters are likely set to unite with Jurassic World's Chris Pratt and Bryce Dallas Howard in an attempt to capture the dinosaurs that escaped and now roaming free across the world.
Though, like most other movies right now, global events have made filming difficult for Jurassic World: Dominion. And though they were shut down for a time, they've returned to filming this summer and haven't stopped. In fact, Jeff Goldblum admitted that he, Sam Neill, and Laura Dern have already shot scenes together, including one scary and claustrophobic scene where they're evading an unknown and new species of dinosaur.
Ddespite Sam Neill and Jeff Goldblum enjoying a heartwarming and lighthearted time off the set, it sounds like Jurassic World: Dominion will be anything but. Though he couldn't go into many details, Sam Neill said of the new movie, "There will be screaming. We know this." Indicating, the movie could very well be a frightful experience.
Jurassic World fans will have to wait a bit longer to see this on the big screen as it's not set to release until June 11, 2021. Until then, maybe just sit back and relax and listen to Sam Neill and Jeff Goldblum singing on the piano for a while.
Your Daily Blend of Entertainment News