Upcoming Pedro Pascal Movies And TV: What's Ahead For The Mandalorian Star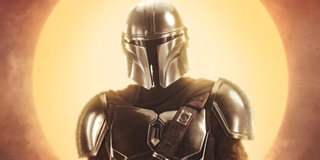 In the past few years, Pedro Pascal has become one of the most recognizable faces (and voices) in show business. With appearances on shows like Game of Thrones, Narcos, and most recently and notably The Mandalorian, as well as roles in movies like Triple Frontier, Kingsman: The Golden Circle, and the upcoming Wonder Woman 84, the Chilean actor has been everywhere as of late. And going off what he has coming up, Pascal isn't slowing down anytime soon.
In the next couple of years, the masked bounty hunter on The Mandalorian will go from saying "This is the way," to showing up in the long-awaited follow-up to Robert Rodriguez's The Adventures of Sharkboy and Lavagirl in 3-D, play a businessman in a spy thriller, and even play Nicolas Cage's millionaire number-one fan in a movie that certainly sounds like the craziest concept in recent memory. So, as we all look forward to Season 2 of The Mandalorian (which is only a few weeks away), let's take a look at Pedro Pascal's upcoming movie and television projects.
The Mandalorian Season 2 - October 30, 2020
It is almost time for The Mandalorian Season 2 to finally drop after what seems like an eternity since the first season concluded on Disney+ in late 2019. The space western will soon return, allowing fans to join Din "Mando" Djarin (Pedro Pascal) and The Child, aka Baby Yoda as they set out on an epic journey. And judging by the first trailer for the upcoming season, it looks like we'll get plenty of Mando taking out the galaxy's most vile scum as he tries to uncover the origins of his cute yet extremely powerful companion. And while we still don't know exactly what the season holds for the adventures of everyone's favorite Mandalorian bounty hunter, if it's anything like the final episodes of the show's freshman season, we're in for a real treat the second time around.
In a year that has been filled with extended delays, new release dates, and the all other sorts of chaos due to the COVID-19 pandemic, showrunner Jon Favreau and Disney+ have been able to avoid any issues with the release of The Mandalorian Season 2 and the the show will return to the streaming platform with new episodes starting October 30, 2020. That means we don't have to wait too much longer to find out if the big reveal of Mando's face in the Season 1 finale will be the first and only time we see Pedro Pascal's face.
Wonder Woman 1984 - December 25, 2020
If 2020 were like any other year, we would have already seen Pedro Pascal's depiction of Maxwell Lord, the mysterious villain in Wonder Woman 1984, but we will all have to wait a little longer to find out more about the ultra-rich, powerful, and nefarious businessman ripped from the pages of DC Comics. In the soon-to-be-released followup to the Patty Jenkins' 2017 Wonder Woman, Pascal will be playing the character that has a history of takeovers (both corporate and evil) that can be compared to a certain bald villain in Superman's Metropolis. Which way the movie takes with the longtime nemesis of Wonder Woman (Gal Gadot) remains to be seen, but judging by the trailer, Pascal looks to be giving it his all here.
Pedro Pascal has been attached to Wonder Woman 1984 since the summer of 2018 when it was revealed that the Game of Thrones actor would be taking on a mystery role in the DCEU sequel that was later revealed to be none other than Maxwell Lord. But fans wanting to see Pascal's version of the suave and ruthless comic book villain have been forced to wait and wait and wait again after the movie's release date keeps getting pushed back. Originally slated to be released on December 13, 2019, Wonder Woman 1984 has since been moved up to November 1, 2019, before being pushed to June 5, 2020. When the COVID-19 pandemic forced theater closures in March 2020, the movie was delayed to August 14, 2020, then October 2, 2020, before finally being moved to December 25, 2020.
The Unbearable Weight Of Massive Talent - March 19, 2021
It is no secret that Nicolas Cage has had his fair share of money issues over the years, and now it appears that there will soon be a fictionalized version of the iconic actor's cash woes in the upcoming meta action-comedy The Unbearable Weight of Massive Talent. According to Deadline, the movie follows a creatively unfulfilled and bankrupt version of Nicolas Cage after he is forced to accept $1 million to attend the birthday party of Javi, his number one fan and Mexican drug kingpin played by Pedro Pascal. What starts out as a harmless night out quickly turns into something more when Cage, under the guidance of Tiffany Haddish's government agent, attempts to take down the criminal organization once and for all by channeling his most beloved and over-the-top on-screen characters.
The project first came to fruition several years ago when director Tom Gormican and screenwriter Kevin Etten sent Nicolas Cage a letter seeing if he would have any interest in playing a fictionalized version of himself in an absurd action comedy. Once the charismatic actor agreed, a bidding war ensued with Lionsgate eventually coming in with the best offer. Production on The Unbearable Weight of Massive Talent is slated to get off the ground at some point in late 2020 for a March 19, 2021 release date, but going off every other movie being pushed back due to COVID-19, it wouldn't be surprising to see this one get rescheduled at some point in the near future.
We Can Be Heroes - TBD
Next up for Pedro Pascal will be a yet-to-be-named character in Robert Rodriguez's upcoming We Can Be Heroes, a followup to the 2005 kids action movie The Adventures of Sharkboy and Lavagirl 3-D, this time seeing a release on Netflix instead of a traditional theatrical run.
According to a 2019 Deadline report, We Can Be Heroes will center around the children of Earth's superheroes as they try to rescue their parents who have been kidnapped by aliens. In a conversation with EW in June 2020, Rodriguez revealed that one of the film's main characters will be the daughter of Sharkboy and Lavagirl, with Taylor Dooley (Lavagirl) reprising her role as an older hero. There was no word on if Taylor Lautner (Sharkboy) will be showing up in some shape or form.
The Deadline report mentioned above also revealed that We Can Be Heroes will have a rather stacked cast (which is no surprise for a Robert Rodriguez project), with Christian Slater, Akia Akbar, Priyanka Chopra-Jonas, and Pedro Pascal padding a supporting cast that also includes nearly a dozen other stars of film and television. But we still don't know what each of these actors will be doing or when we'll be able to see We Can Be Heroes, but whenever it does come out, it will be all over Netflix to let the world know. There's also no word on whether the movie will follow in the footsteps of its predecessor and try out that insane 3-D technology this time around.
Tropico - TBD
Another upcoming project involving Pedro Pascal is Tropico, which is being described as an atmospheric and exotic thriller featuring Willem Dafoe, Morena Baccarin, and Pascal. The film, which is being directed by Giada Colagrande, is based on a script by Barry Gifford that follows Dafoe's Raymond Sanz, an operative hired to spy on Pascal's Mark, a wealthy American businessman living in a coastal town in Northern Brazil. What starts off as a simple fact-gathering mission quickly turns into something much deeper and potentially darker when Raymond falls in love with Mark's mysterious wife Lucia (Baccarin) and her identical sister Olivia (also played by Baccarin). Colagrande told Deadline in 2019 that Tropico is a steamy thriller similar to some of the classic examples of film noir.
There is no release date for Tropico at this point in time, especially considering that the production has yet to begin. Principal photography was set to get started in the first quarter of 2020 in São Luis Do Maranhão in Northern Brazil, but that never came to be and a new start date has not been revealed. But with a fascinating story and talented collection of actors, hopefully, Tropico doesn't slip between the cracks.
Well, those are all the upcoming movies and television shows featuring Pedro Pascal, star of the Disney+ hit series The Mandalorian. Which of these upcoming projects are you most excited to check out? Make sure to sound off in the comments below.
And while some movies on this list either don't have release dates or their premieres keep getting pushed back, you can keep track of everything with the 2020 Movie Release Schedule as well as the 2021 New Movie Releases guide here at CinemaBlend.
Your Daily Blend of Entertainment News
Philip grew up in Louisiana (not New Orleans) before moving to St. Louis after graduating from Louisiana State University-Shreveport. When he's not writing about movies or television, Philip can be found being chased by his three kids, telling his dogs to stop barking at the mailman, or yelling about professional wrestling to his wife. If the stars properly align, he will talk about For Love Of The Game being the best baseball movie of all time.