6 Movie Marathons To Get You Through Halloween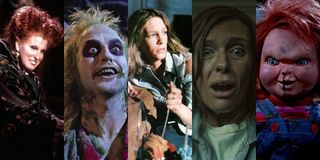 (Image credit: (Disney/Warner Bros/Universal/A24))
Happy Halloween season! It's officially the best time of year to revisit the best spooky movies. But I get it, sometimes it's tough to decide where to even start. These days, the libraries available to us immensely stretches the row of DVDs or VHS tapes on our shelves we used to dust off come October. There are riches of streaming services at our fingertips and so many films to explore to get into the spirit of things. Fortunately, we've conjured up six themed marathons to check out depending on what streaming service you prefer to stick around on.
We'll start off light and sweet and go for advanced creeps in darkness by the end. Which marathon you pick depends on what you prefer or can handle. They can be enjoyed for an entire day of Halloween fun, or split up and viewed out throughout the month. It's up to you! Check these out:
Bag Full Of Treats Edition (Disney+)
The entry level and most family-friendly of our Halloween marathons can be found over on Disney+ of course. To start things off, pop on the classic 1952 Disney short Trick or Treat, which stars Donald Duck and his nephews on Halloween night in true tradition for the studio. Your first feature film should then be the 1998 Disney Channel original Halloweentown, an adorably Halloween-themed film about a young girl who finds out she's a witch and ventures with her brother and sister to a place full of supernatural creatures.
Then check out the underrated Disney Channel original gem Don't Look Under The Bed, which has a teen having her imaginary friend take on the Boogeyman, who is framing her for all his pranks in the neighborhood. Of course, you'll have to revisit the Halloween staple with the Sanderson sisters next with Hocus Pocus next, and end your candy corn-sweet marathon with Jack Skellington in The Nightmare Before Christmas. This watchlist is just six hours long. Start it over on Disney+ here (opens in new tab).
Classic Monster Mash Edition (Peacock)
In order to appreciate the roots of the Halloween season, i.e. the horror genre and the movie monster genre, you can go over to new streaming service Peacock for this fun marathon. Start your viewing party off with 1931's Frankenstein starring Boris Karloff, which tells the famed Mary Shelley story of the monster created from cadavers. Follow it up with 1935's Bride of Frankenstein, also starring Boris Karloff, who is given a mate by his creator. (That movie is currently being developed as a modern remake.)
Before moving out of the '30s, the third feature in the monster mash edition is Dracula, starring Bela Lugosi's version of the famous vampire. Next up, we jump forward half a century for Tim Burton's Beetlejuice, a modern spooky essential about a newly dead couple who need help from Michael Keaton's Beetlejuice to haunt the new tenants of their home. The best way to end things is with the most seminal entry into horror, Alfred Hitchcock's Psycho, which is about a woman who stays in a creepy motel while on the run. This watchlist will take about eight hours over on Peacock here (opens in new tab).
Screamin' Slasher Edition (Shudder)
Shudder is also a fairly new streaming service, and it's completely made up of horror films, so this is a great hub to go to during Halloween time. As for this marathon, the screamin' slasher edition is not for the faint of heart (especially compared to the past two). These are technically scary, but a fun time too. First up is 1968's Night of the Living Dead, a zombie classic by George Romero, which should be followed up by the original Black Christmas, where a group of sorority sisters are hunted by a mysterious caller.
Then, since you're over on Shudder, you'll have to brave 1974's The Texas Chainsaw Massacre (I do make the rules!), the highly-disturbing story of Leatherface. For a brief segue into the modern fare, check out Haunt next, a 2019 horror flick and Shudder exclusive about a group of friends who discover a haunted house on Halloween that feeds into their fears. End this marathon with John Carpenter's original Halloween movie, especially before Jamie Lee Curtis returns for Halloween Kills next year. Enjoy this eight-hour marathon over on Shudder here (opens in new tab).
Corsets And Daggers Edition (Netflix)
Netflix has a huge horror selection, and of course, the highly-anticipated Haunting of Bly Manor series coming this October. The marathon I have for you here is a healthy mix of classic Halloween fun and serious horror and gore that all give off an old timey, stuck-in-a-foggy-forest vibe. To prime you is The Addams Family, a go-to 1991 Halloween movie with dark humor. Then you should go over to 1990's The Witches, a strangely terrifying Roald Dahl adaptation (also) starring Anjelica Huston.
Then go to the depths of hell with Kate Beckinsale for the original 2003 Underworld film, which follows a vampire Death Dealer who hunts Lycans for an action-packed creepfest. Check out the Netflix original Apostle, an underseen 2018 period horror piece starring Dan Stevens about a man who tries to save his sister from an evil cult on a remote island. The final feature on this marathon is 1999's Sleepy Hollow, an early collaboration with Tim Burton and Johnny Depp that tells the gothic story of Icabod Crane and the Headless Horseman in an entertaining and creepy way. This nine-hour marathon is over on Netflix here (opens in new tab).
Haunted In Lockdown Edition (Amazon Prime)
Is there anything that screams horror or Halloween in 2020 then being stuck in your home with some pesky demons? Dare I say, this is the most relatable marathon for your viewing pleasure, which makes it even more frightening. We'll start this marathon off on the more wacky end with 2019's Crawl, a fun disaster horror film about a girl being trapped in her home with deadly alligators during a horrible hurricane. Then join a young Ryan Reynolds for 2005's The Amityville Horror remake, which is about a newlywed couple haunted by demons.
The marathon continues with last year's The Lighthouse, following Robert Pattinson and Willem Dafoe as lighthouse keepers who (hilariously) drive each other insane on a remote island, as the movie also explores some deep themes. Follow that by checking out 2011's The Cabin in the Woods, Drew Goddard's clever and twisty thriller featuring Chris Hemsworth. The final feature here is Ari Aster's Hereditary, a truly messed-up horror entry that examines family psychosis with unforgettable and terrifying images. This nine-hour marathon is available to stream over on Amazon Prime here
Possessed By Horror Edition (HBO Max)
The last Halloween marathon has to be the most intense and hardcore. There's ten hours of horror content here, and it's all available on HBO Max (or through your streaming HBO subscription, it's the same thing now). We'll start soft with an '80s favorite, Gremlins, which is about a boy who is given a pet monster that unleashes havoc on his neighborhood. Next is 1990's Child's Play 2, which continues Chucky's rampage to take young Andy's soul after his mom is taken to a psych ward and he is placed in the foster care system.
This marathon that heavily explores the terrifying idea of demon possession continues with 2009's Orphan, which has a couple taking in a young girl who gives the kid in The Omen a run for his money. Try not to skip over one of the most horrifying horror entries to this day, 1973's The Exorcist, which is about a mother who enlists two priests to help her possessed daughter. The marathon ends with last year's The Shining sequel, Michael Flannagan's Doctor Sleep, following Dan Torrance as an adult as protects from the powers he encountered at the Overlook Hotel. Check out this marathon on HBO Max here (opens in new tab).
Enjoy your Halloween viewing! Let me know which one your checking out by voting in the poll below and stay tuned here on CinemaBlend for more movie and TV news.
This poll is no longer available.
YA genre tribute. Horror May Queen. Word webslinger. All her writing should be read in Sarah Connor's Terminator 2 voice over.