M. Night Shyamalan Shares The Title And Poster For His New Sci-Fi Movie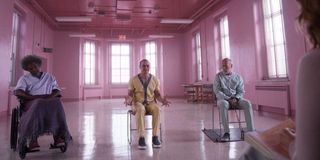 M. Night Shyamalan always manages to keep fans on their toes. Over the years, he's thrilled us with twist endings -- and sometimes left us scratching our heads. Now, he's teasing a new sci-fi film and, even though he's only shared the title and a poster for it, it's definitely enough to have us intrigued.
M. Night Shyamalan has shared a pair of photos on his official Twitter account, along with an enthusiastic announcement, about his upcoming film:
So that's exciting. Until this point, we knew that the director had a new project in the works -- one that boasts an impressive cast, including Gael Garcia Bernal and Eliza Scanlen. But we didn't have many other details, other than that M. Night Shyamalan would be financing the film.
Now, we have a name - Old - and a poster that gives us some idea -- though not much -- of what we might be in for. It's no surprise, given M. Night Shyamalan's previous films, that Old looks to be yet another creepy endeavor. It looks to show the bottom half of an hourglass, albeit one in which grains of sand are replaced with human bodies. That imagery, plus the film's name, make it seem as though the film will deal with aging in some way though, of course, that's only speculation.
The behind-the-scenes photo M. Night Shyamalan shared makes it seem as though the film will be tapping into some picturesque landscapes. While some of the director's films (like Split and Devil) have dealt with characters in confined spaces, others -- like The Village and The Happening -- make nature a prominent part of the narrative landscape.
Still, the on-location shot doesn't necessarily give us a read on what we can expect Old to feel like. Signs managed to do both, drawing on sweeping farm landscapes while placing the characters largely in paranoid isolation.
It does tell us that the director is taking precautions to make sure the production goes smoothly. M. Night Shyamalan and the other crew members visible in the photo can be seen wearing protective masks, which is proving to be the new normal on film sets around the world. Hopefully, this will help prevent the spread of COVID-19 and help make to ensure the cast and crew can make the film without delay.
As of now, Old doesn't have an official release date. M. Night Shyamalan fans will have more episodes of Servant to keep them busy in the meantime -- the director recently told fans on Twitter that they were back to work on the AppleTV+ series -- also with appropriate safety measures in place.
Are you excited to see Old? What do you expect the film to be like? Let us know in the comments!
Your Daily Blend of Entertainment News