Why Enola Holmes' Helena Bonham Carter 'Loved' The Idea Of Putting The Focus On Sherlock's Sister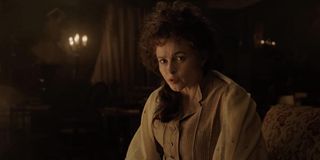 Over the years, Sherlock Holmes has had many faces, most recently Robert Downey Jr. in the Sherlock Holmes movies and Benedict Cumberbatch in the Sherlock TV series. Now, Henry Cavill is stepping into those big shoes but, with Netflix's Enola Holmes, the focus has shifted toward his younger sister, an idea that co-star Helena Bonham Carter loved.
Helena Bonham Carter plays Sherlock, Mycroft and Enola's mother, Eudoria Holmes, an off-beat mom who raises Enola in ways that differ from what 19th-century society teaches. And for Helena Bonham Carter, focusing on Sherlock's younger sister, rather than Sherlock himself, was a way to thumb your nose at the original Sherlock. Here's what she said to EW:
It's true that focusing on Sherlock Holmes' younger sister is a different take that allows a female Holmes to take over and solve a mystery for once. For Helena Bonham Carter, there's deeper meaning there that pushes back against an originally problematic character.
The idea of Enola Holmes has actually been around for some time. The movie is based on Nancy Springer's six books that were published from 2006 to 2010. The series drew interest from director Harry Bradbeer and writer Jack Thorne, who ultimately adapted the series into a film.
Of course, you couldn't have a movie about the Holmes family without Sherlock, himself. In this movie, Henry Cavill portrays the famous detective and does a surprisingly different take from his predecessors. Still, even though he's in the movie, he only makes brief appearances, and Enola Holmes still holds the spotlight.
Enola Holmes is a fourth-wall-breaking mystery starring Millie Bobbie Brown and focuses on the main character's efforts to find her missing mother. Meanwhile, Enola Holmes stumbles upon another mystery involving a young Lord and tries to solve both before her brother finds her.
But has it made a big enough splash to be an effective fight against focusing so much on Sherlock? So far, all signs seem to be pointing to a resounding yes. Critical reviews have been overwhelmingly positive, with some, by and large, having fallen in love with the movie.
Whenever a movie does well, people naturally wonder if there will be a sequel. At this point, there's no firm confirmation on whether or not an Enola Holmes 2 is coming, but Harry Bradbeer has admitted that there's have been discussions, which, for fans of this movie, could still be promising news. For more on Netflix's Enola Holmes, be sure to stay tuned to CinemaBlend.
Your Daily Blend of Entertainment News