Robert Pattinson Reveals One Thing Batman Has In Common With Twilight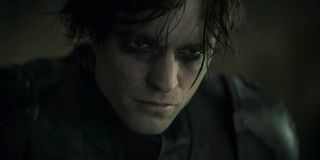 Robert Pattinson is set to enter some new acting territory, as he'll try his hand within the superhero genre as the title hero in The Batman. On the surface, the role seems very different from his roles, particularly his role as vampire Edward Cullen in the Twilight franchise. It's true that the roles are very different (aside from a potential vampire/bat link) but, according to the actor, the franchises do have one key element in common.
Since enduring his tenure on Twilight, Robert Pattinson has rarely worked on blockbuster films, so The Batman will mark one of the few tentpoles that he's in the past few years. With both being commercial films, they come with plenty of expectations and wide-ranging viewership. Though this could be daunting for an actor, Pattinson hasn't found it to be an issue, even as he prepares to play the Dark Knight:
Pattinson's comments to Total Film (via Digital Spy) are interesting to think about. Many performers would feel somewhat uneasy about stepping into the shoes of iconic characters in massive projects. However, Pattinson seems to have transformed any kind of trepidation into confidence.
Robert Pattinson is touching on a very interesting dichotomy that lies within blockbuster filmmaking. On the one hand, actors, directors and producers usually aim to bring their A-game to marquee productions like The Avengers or Wonder Woman. And the buzz surrounding them can be a lot at times. Yet Pattinson leans more towards the excitement of knowing that the project has a built-in fanbase and being aware of the fact that he has the ability to really go for something unique performance-wise.
What adds to the star's excitement could be the fact that he's a longtime fan of Bruce Wayne. He previously revealed that there's something that's just always appealed to him about the character, and he actually admires the legacy of great writers and directors that have been drawn to Batman films. This is just another way in which Pattinson subverts trepidation, because most of us would probably faint at the notion of following in the footsteps of actors like Michael Keaton or Christian Bale.
But from what we've seen and heard so far, Robert Pattinson seems primed to deliver a fresh take on Bruce Wayne that still stays true to the essence of the character. The hype for The Batman is certainly real, especially following that first trailer. Still, it's nice to know Pattinson isn't becoming overwhelmed due to the constant noise surrounding his latest project.
The Batman is currently scheduled to hit theaters on October 1, 2021.
Covering superheroes, sci-fi, comedy, and almost anything else in film and TV. I eat more pizza than the Teenage Mutant Ninja Turtles.
Your Daily Blend of Entertainment News
Thank you for signing up to CinemaBlend. You will receive a verification email shortly.
There was a problem. Please refresh the page and try again.