The Next Twilight Book: 5 Things Stephenie Meyer Has Said About What She's Working On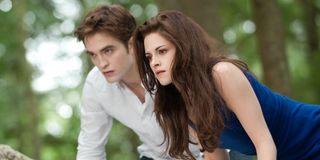 (Image credit: (Summit))
Haven't you heard? "We live in a Twilight world!" That actual line from Tenet knows what it's all about since we'd like to believe there is more to see from the cultural phenomenon in the future. Fans of the franchise were given a treat over the summer when the long-awaited Midnight Sun novel hit bookshelves – reigniting our love for Edward and Bella's romance through the lion's eyes this time. And during the press tour for Midnight Sun, Stephenie Meyer has also teased her interest in continuing the series with sequels.
You may have heard the initial report that Stephenie Meyer has ideas for two more Twilight books, but now it's time to delve deeper into what the author has disclosed about what exactly that could mean. During an exclusive virtual appearance for US online book chain Books-A-Million, Meyer had a few key things to say about her plans to continue Twilight. Let's sink our teeth into it here:
Stephenie Meyer's Progress On More Twilight Books
Stephenie Meyer pleasantly surprised fans when she disclosed that she has made some progress on two additional Twilight books. She said there are "two more books" within the world she has established that she would like to explore further. Here's what she said specifically about where she's at in the writing process:
So basically the ideas are there and written down in a bare bones form somewhere in Stephenie Meyer's office. She has placed them aside in hopes of working on something completely new first. Now that Midnight Sun has become a No. 1 bestseller, perhaps she'll be more interested in going back to the book franchise and writing that second chapter!
When The Next Twilight Book Will Be Set
An especially exciting bit of information the author disclosed during the event is the focus of the next Twilight book. As we know, there's a lot of places Meyer could journey to in a new book from the series, whether it be some sort of prequel about one of the Cullens' pasts or spin off about a fan-favorite such as Leah. Based on what the author said, we'll be getting a straight sequel to Breaking Dawn. In her words:
Four years after Breaking Dawn!! What does that look like? We already have so many questions. It's strange to see her say this, because honestly I didn't think we'd see another Edward/Bella story after the conclusion she wrote in 2008. We'd imagine there would be a completely different dynamic in play with Bella being more experienced as a vampire and Renesmee being more grown up. Have they moved away from Forks and are Charlie and Jacob still a part of their lives? It's a really exciting place for the franchise to continue.
Yes, The Volturi Will Be Involved In The Twilight Sequel
Additionally, Meyer talked a little bit about the main villains of the original Twilight series, the Volturi. As you know, the Volturi is a largely powerful coven of vampires that enforce the law, but can have a pretty lethal way of going about it. Bella and Edward got on their bad side in Breaking Dawn when they were under the impression Renesmee was an immortal child (a kid who is turned into a vampire), when Bella did in fact give birth to her.
The miscommunication is cleared up at the end of the series, but Breaking Dawn does leave it open-ended since the Cullens believe the Volturi will seek vengeance for the humiliation they caused them. Here are Stephenie Meyer's comments on what's next for the coven:
Anyone just get chills? This is really exciting. It sounds like the Cullens might deal with some sort of secret war with the Volturi as they attempt to get back at the Cullens. Four years gives the Volturi ample time to plan some sort of a clever attack and could make for an intriguing new chapter in the series.
Why Stephenie Meyer Is Holding Off Writing More Twilight Right Now
As pumped as these details make us, we of course cannot ignore the fact that Stephenie Meyer did clearly say that a Twilight sequel is not what she's jumping to right away after the release of Midnight Sun. She does have a solid explanation as to why she's not able to move to writing it at the moment though. In her words:
Fans of the author may at least be able to look forward to a completely new world from the author before the Twilight sequel, depending on how things shake out. This, however, isn't great news for those who have been holding out hope for the trilogy for The Host for years. Since the story about an alien race invading the bodies of humans is technically one of her established worlds, we're now left with two continuations to still impatiently wait for. But, who knows, maybe the author has an awesome new world to introduce us to first.
Meyer Will Tell Us The End Of Twilight On Her Deathbed If She Has To
Now this last point is a bit disheartening, because it's bittersweet. On one hand Meyer makes it clear she wants Twilight fans to know how her saga ends with her intended sequel whether she lives to tell it, but on the other, the fact that she says this makes it sound like she might not get around to it. Check out what she said:
Ok, so she said this with a light tone and Stephenie Meyer is just 46 years young, but still… I really hope we get a sequel sooner than later. And a bold points version just would not be the same. While these teases about the next Twilight book are exciting, this last quote is a reminder that books take time to write and it may take some patience before it's officially in the works.
What do you think about these details about what's coming next for Twilight? Are you excited or content with how Breaking Dawn closed things out? Of course here at CinemaBlend we'd love to see Robert Pattinson and Kristen Stewart to return for another movie. Vote in our poll below and stay tuned for more Twilight news.
This poll is no longer available.
Your Daily Blend of Entertainment News
YA genre tribute. Horror May Queen. Word webslinger. All her writing should be read in Sarah Connor's Terminator 2 voice over.
Your Daily Blend of Entertainment News
Thank you for signing up to CinemaBlend. You will receive a verification email shortly.
There was a problem. Please refresh the page and try again.