Ghostbusters: Afterlife's Ernie Hudson Recalls The Moment He Knew The Third Film Was Really Going To Happen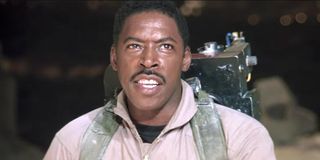 Ghostbusters fans had long hoped that a direct sequel to Ghostbusters II would happen, but instead, a Ghostbusters reboot came out in 2016. With dreams dashed, hope eventually came back in the form of Ghostbusters: Afterlife, and for many it seemed almost too good to be true. But after many years, it is indeed happening. Now, Ernie Hudson recalled the moment he knew this third film was really going to happen.
For years, Ernie Hudson has been kind of a de facto ambassador for Ghostbusters fans, going to conventions and meeting with them face-to-face. He, alongside Bill Murray and Dan Aykroyd, will be returning to Ghostbusters: Afterlife, something that was sometimes considered a nigh-impossible reunion. After so many ups and downs, Ernie Hudson spoke to Yes Have Some about the moment he finally believed the Ghostbusters sequel was a sure thing:
For Ghostbusters fans, it looked fairly grim that they'd ever get a continuation to Ghostbusters II with the original cast returning, especially with the tragic passing of Harold Ramis. So Ghostbusters: Afterlife is something a lot of those fans have wanted for a while.
Of course, before Ghostbusters: Afterlife was announced, Sony tried a different approach by wiping the slate clean and rebooting Ghostbusters entirely, starring Melissa McCarthy, Kristen Wiig, Kate McKinnon, and Leslie Jones as the title characters. However, that movie didn't really excite the fanbase, received mildly positive reviews, and only did fairly well at the box office. Ernie Hudson said later:
Unfortunately for those Ghostbusters fans who have been waiting years to see a continuation to the story, they'll have to wait a bit longer. Due to global events, Sony has pushed back Ghostbusters: Afterlife to March 5, 2021. But, while that's bad news right now, going off what director Jason Reitman has said, in the long run, it sounds like this could be a good thing.
For more movie news, be sure to stay tuned to CinemaBlend.
Your Daily Blend of Entertainment News