John Grisham Reveals How He Really Wants Matthew McConaughey To Return To Reprise His A Time To Kill Role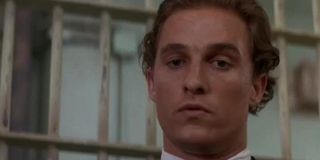 A Time to Kill, starring Matthew McConaughey, is 24-year-old movie at this point, and one that helped serve to jumpstart the actor's career. Since then, Matthew McConaughey, who was a relatively unknown actor at the time, became a huge star of films like Interstellar, The Dallas Buyers Club and even True Detective. Now, John Grisham is set to publish A Time for Mercy, a sequel to A Time to Kill, and he seems to really want Matthew McConaughey to return and reprise Jack Brigance.
John Grisham, of course, is a master at courtroom dramas. When A Time to Kill was first released, it was a big hit for all involved, including co-stars Samuel L. Jackson and Sandra Bullock. Now that he's got another Jack Brigance novel coming down the pipeline, John Grisham told USA Today it would make sense to have another movie based on the character. In fact, he'd be game to have Matthew McConaughey reprise the role he brought to life years ago:
This would be an interesting turn for Matthew McConaughey if he chose to play Jack Brigance again. While he hasn't played the character for some time, he does have a knack for playing lawyers. So, he could undoubtedly fill those shoes once again.
Matthew McConaughey returning to play the character might also revitalize John Grisham movies just as A Time to Kill helped Matthew McConaughey's career in the '90s. Back then, John Grisham was on a hot streak on the big screen, as well as in the literary world. From The Firm to The Pelican Briefto The Client, and many more, it seemed like there was no end to his courtroom dramas.
But after Runaway Jury in 2003, John Grisham adaptations slowed down to a grinding halt. In fact, there hasn't been a John Grisham courtroom drama that has reached the silver screen since. (Though the non-courtroom feature Christmas with the Kranks came out in 2004.)
Several of John Grisham's movie projects have also ended up in limbo. Back in 2012, there were reports that Mark Wahlberg was approached to star in The Partner and in 2013, reports indicated John Grisham's novel The Racketeer would get the movie treatment; but sadly nothing came of either of these movie projects.
Technically, A Time for Mercy will be the third in the Jack Brigance series. John Grisham previously wrote Sycamore Row, the direct sequel to A Time to Kill. So, if Matthew McConaughey did decide to play Jack Brigance again, one has to wonder which story a studio would choose to adapt first, as well. Either way, it's fun to think about McConaughey potentially returning to the role. For more movie news, be sure to stay tuned to CinemaBlend.
Your Daily Blend of Entertainment News