How Much Bill And Ted Face The Music Actually Made From Its At-Home Release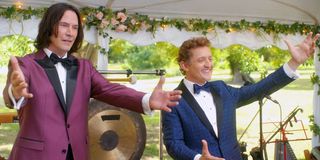 There's been a recurring trend for movies that have gotten VOD releases opening weekend in recent months. Movies like Trolls World Tour, Bill and Ted Face The Music and Antebellum all shoot up to the #1 slot on the On Demand charts, seemingly doing well. Given a film's budget and the amount the studio is actually making on a release, the numbers can be tricky and don't always mean the studio is seeing a profit, however. Now that Bill and Ted Face The Music has had a healthy run on VOD and in theaters, how are its numbers looking?
Bill and Ted Face the Music is the rare movie to get theatrical distribution and a Video On Demand release at the same time. So far, in theatrical revenue the movie has only brought in a little over $5 million globally, with a little over $3 million of that from domestic theaters. In VOD revenue the movie has seemingly fared much better, with Deadline reporting the film has made $32 million. But, to know whether or not that's a good number, you need to factor in a few things.
First, though much of Bill and Ted's threequel box office intake came from domestic theaters, studios only get to keep around half (a rough guesstimate based on percentage of intake over time) of theatrical revenue, with the rest actually going to the theaters. The VOD money is much closer to straight profit, and reportedly the studio gets to keep 80% of the revenue from any VOD release. After that, what you really need to know is:
How Much Did Bill And Ted Face The Music Cost To Make?
The budget for the flick was around $25 million, which means Keanu Reeves did not break the movie's salary bank to return to his role as Ted "Theodore" Logan. He and Alex Winter, playing William "Bill" S. Preston Jr., made a comedy romp on a middling budget, which is getting harder and harder to do in general. (In fact this movie took 10 years to actually get made.)
So, factor in that 32 million plus an extra few million from theatrical profit and probably Bill and Ted Face the Music is at least close to starting to make money for the studio. We obviously don't know how much the movie cost to advertise to the public, but I'd assume this one wasn't breaking MGM Orion's bank.
Plus, Bill and Ted Face the Music isn't done making money yet. In fact, the flick recently dropped the $19.99 price per rental down to $13.99. An option to purchase the movie is also now available. So, we'll have to wait and see how much more the movie is able to pull in over the coming weeks. The gist is, though, that the movie will continue to make money and will presumably be a profitable enterprise, which would be good news for this model.
This is a far different type of film to hit homes than the others we've seen in recent months. Trolls World Tour was often touted as a success because it made Universal over $100 million in rentals. That's great news for the movie, but that animated sequel obviously had a much higher budget to contend with, though Universal seemed happy with the results. More recently, Mulan's VOD release was touted as a success, though the movie fared poorly globally and Disney+ never released actual numbers.
The point is, a lot of the VOD movies released in 2020 have either been bigger budget films with more at stake given the costly price tag or indie movies that might have been released on VOD in a given year anyway. To me, Bill and Ted Face The Music has been an interesting test case for a movie that didn't necessarily need to be seen on a big screen, like Tenet, to be enjoyed to its full value. I'm sure Bill and Ted 3's bold final scene would have been cool in a big screen format, but it was a fun watch regardless. And with its success, I'd be interested to see how other mid-budget products fare in this weird time we're living in. We'll have to wait and see, but in the meantime, be excellent to each other.
Your Daily Blend of Entertainment News
Reality TV fan with a pinch of Disney fairy dust thrown in. Theme park junkie. If you've created a rom-com I've probably watched it.
Your Daily Blend of Entertainment News
Thank you for signing up to CinemaBlend. You will receive a verification email shortly.
There was a problem. Please refresh the page and try again.