Excellent News, Bill And Ted Face The Music Has Already Dropped Its Cost To Rent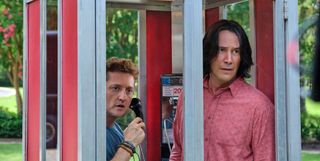 A lot of fans waited a long time for Bill and Ted Face the Music, and they were more than ready when it was finally available to view late last month. However, some fans may have missed out on its release, for one reason or another. Now, there's a most excellent reason to finally check it out - the price to watch it on digital platforms has dropped.
For plenty of cinephiles that cut their teeth on '80s and '90s movies, Bill and Ted Face the Music was meant to be a truly historic event (in more ways than one). It took decades for the time traveling duo to be reunited, but the buzz was big for the third installment of the franchise. That is, until COVID-19 shifted how basically every movie from 2020 was going to be released, leading to a ton of uncertainty over the movie's premiere.
It ultimately hit both theaters and digital platforms on August 28. Recently, Alex Winter, who plays the Bill to Keanu Reeves' Ted, tweeted out some excellent news for fans:
The website linked in Alex Winter's tweet offers access to every platform on which Bill and Ted Face The Music is available. The current prices fluctuate slightly depending on which platform you choose. On YouTube and Google Play, the price is shown to have been slashed from $19.99 to $13.99 for a rental and from $24.99 to $19.99 for a purchase. On other sites, like iTunes and Amazon, the current prices are $14.99 to rent and $19.99 to buy.
Fans responded excitedly to Alex Winter's tweet -- some said they'd been waiting for the price to drop before they checked out Bill and Ted Face the Music, while others said they'd already watched it and it had been worth the price they paid.
That seems to be the general consensus regarding the third film in the Bill and Ted franchise. Before it was released, superfan Kevin Smith was effusive in his praise. Thus far, the critical consensus is that Bill and Ted Face the Music is decidedly not bogus. CinemaBlend's Sean O'Connell praised the movie for having "more heart" than the two films that preceded it.
Bill and Ted Face the Music is one of many, many films that's endured some pretty radical changes in terms of its release this year, due to COVID-19. While fans were given the option to see it in theaters in some areas, offering a chance to also watch it at home was probably a smart call. While it made a little over $1 million at traditional box offices in its first weekend, it was topping rental charts on digital platforms.
Have you watched Bill and Ted Face the Music yet? What did you think? Let us know in the comments!
Your Daily Blend of Entertainment News