Donald Glover Admits He Likes To 'Skulk' On Other Celebs Because The Internet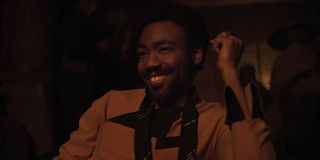 Since Community, Donald Glover has gradually risen to be one of the hottest stars in Hollywood, thanks to his hit TV show Atlanta, his knock-out performance as Lando Calrissian in the Star Wars universe, and his latest appearance voicing Simba in The Lion King. With so much fame, you'd think he'd use his presence on the internet like other celebrities, but he doesn't. He has accounts, but he doesn't really use them. Still, that hasn't stopped him from using the internet to 'skulk' on other celebs, as he recently noted.
While other actors and celebrities are caving in, signing up for social media sites, like Instagram, and using them with great skill. Donald Glover isn't really biting and doesn't post these days, despite having millions of followers. Still, when speaking with Chewing Gum's Michaela Coel for GQ, Donald Glover admitted he's learning all about what other celebrities are up to from it:
While it's somewhat forthright of him to admit that he keeps tabs on other celebrities, it's not exactly a rare thing for the average person to do. After all, the internet and social media have provided greater access to celebrities' lives than ever before, for better or worse. And in Donald Glover's case it seems he reaps the benefits of keeping tabs without feeling the need to share too much himself.
Though not being caught up in any social media trappings, Donald Glover has kept busy in other ways, specifically in his professional life. It's no secret the actor and musician had been busy pre-quarantine working on multiple projects, including the now-scrapped FX Deadpool animated series, a new season of his hit FX series and his recently released Childish Gambino album 3.15.20. There's finally a roadmap for when Atlanta will be getting back to work as well.
In fact, his apparent busyness may have inadvertently kept him from being in the now-famous Community group chat. Donald Glover had actually been left out of it and when he asked fellow Community co-star Yvette Nicole Brown about it, she said, "I think we assumed you were too busy, Donald."
Of his many projects, taking on the role of Lando Calrissian may be his biggest to date and has totally changed his life. While Solo: A Star Wars Story had mixed results, there's been rumors swirling that he's being sought after to reprise his role as Lando for Disney+, which, if true, would totally keep the star even busier than before. Unfortunately, there's no way to do some "skulking" of our own on Donald Glover to get any clues on this front.
As of right now, it doesn't look like there are any confirmed movie projects on Donald Glover's slate, but he and his partner Michelle did just welcome a baby during the pandemic. So, he's busy nonetheless on that front. We'll be sure to let you know as soon as he reveals what he's into next.
Your Daily Blend of Entertainment News
Your Daily Blend of Entertainment News
Thank you for signing up to CinemaBlend. You will receive a verification email shortly.
There was a problem. Please refresh the page and try again.