Chris Evans Explains Why He Finally 'Caved' And Joined Instagram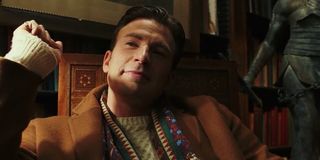 Chris Evans is a lot of things, but an early adopter of digital trends is not one of them. He surprised fans earlier this month when he joined Instagram without warning. Now, he's admitting why he finally "caved" and signed up for the social media platform, and his reasoning is actually pretty on brand.
A lot of celebrities use their social media accounts to promote their work -- and who can blame them? But when Chris Evans suddenly joined Instagram on May 1, it wasn't to plug his Apple+ TV series or tell fans to stream an Avengers marathon while we're all self-quarantining at home. In an interview with The Tonight Show's Jimmy Fallon, he revealed that his rationale for finally getting an Instagram account was actually a lot more random:
True to his word, at the moment 50 percent of Chris Evans' Instagram content is dog-focused (though, to be fair, he's only shared four posts so far). His first Instagram post, however, was dog-free -- it was a video inviting fans to join the All In Challenge and donate for a chance to win a virtual game night with him and his fellow Avengers.
In the two weeks since, he also shared a Mother's Day post featuring some throwback photos of the Evans family. At this point, his account is basically a haven for incredibly wholesome content, and we can't say we're complaining.
Despite his recent adoption of Instagram, Chris Evans has actually been one of the most active social media users among the MCU cast. While some, like Chris Pratt, Ryan Reynolds and Brie Larson have mastered the art of connecting with fans online, others -- like Scarlett Johansson -- have a very limited presence on digital platforms.
Chris Evans has used his Twitter account to share his political opinions, advocate for causes he's passionate about and join in on some well-placed self-memery. Even though he told Jimmy Fallon he's going to be using Instagram for dog pics, it looks like he'll still use Twitter to do that, too, if his recent post about botching Dodger's quarantine grooming session is anything to go by.
It's a little too early to say whether Chris Evans will become an Instagram enthusiast, or whether he'll take the Rami Malek approach and only share photos once a year. Even though he's less than a month into his Instagram career, more than three million people have already followed him and are likely ready for some more pictures of his dog. They can also watcher Chris Evans on Defending Jacob, which is now streaming on Apple TV+.
Your Daily Blend of Entertainment News