Bad Teacher: 10 Behind-The-Scenes Facts About The Cameron Diaz Movie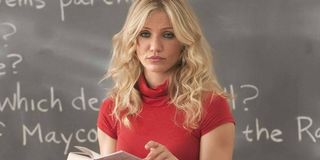 It has been nearly 10 years since Cameron Diaz, Justin Timberlake, and Jason Segel teamed up for what will forever go down as one of the raunchiest comedies set inside the halls of an Illinois junior high school. And while Bad Teacher might be a forgotten relic to some, the 2011 R-rated comedy is popular as ever on Netflix these days, and after watching the movie, there might more than a few people wanting to know some of the most hilarious and ridiculous behind-the-scenes facts from its production.
Now that school is back in session and people are falling in love with Bad Teacher all over again, we've got you covered. Here are 10 things to know about the making of the vulgar Cameron Diaz comedy.
Cameron Diaz Was Initially Not Into The Character Of Elizabeth Halsey
We can all agree that Elizabeth Halsey probably has no business being a middle school teacher, at least in the beginning of the movie, and Cameron Diaz felt the same way about her Bad Teacher character when she was first handed the script, as she revealed during a 2011 interview with Digital Spy, stating:
That little rule of her led to Cameron Diaz continuing with the script, at which point she fell in love with the character and ended up making Elizabeth Halsey one of her most memorable roles.
Kaitlyn Dever Made Her Theatrical Debut In Bad Teacher
Kaitlyn Dever has become something a big name in young Hollywood the past few years, but before she was leading movies like the sensational 2019 comedy Booksmart or before she was on the main cast of the Tim Allen sitcom Last Man Standing, she played Sasha Abernathy in Bad Teacher. And shockingly enough, this was the first time Dever had appeared in a theatrical release with her first film appearance coming in the 2009 straight-to-DVD An American Girl: Chrissa Stands Strong.
Lucy Punch Improvised Amy's 'Overwhelmed' Face
In an interview with HitFix, Lucy Punch revealed that the scene in Bad Teacher in which Amy Squirrel and Principal Wally Snur (John Michael Higgins) are having a back in forth in Snur's office wasn't originally supposed to go on for as long as it did, but when Punch improvised Amy's "Overwhelmed" face, it just kept going:
Amy's "Overwhelmed" face and the story behind the mysterious 2008 event that brought it on remain just as funny all these years later.
Phyllis Smith Was Approached By The Film's Writers After Working With Them On The Office
Before writing Bad Teacher, the writing team of Lee Eisenberg and Gene Stupnitsky made a name for themselves on the creative team of The Office. It was there where the two worked with Phyllis Smith and ended up liking her performance as Phyllis Lapin, later Vance, so much they thought she would be perfect for Elizabeth's best friend and fellow teacher. During a red carpet interview at the premiere of Bad Teacher with Sony Pictures, Smith explained that Eisenberg and Stupnitsky approached her on the set of The Office and said she would be perfect for the role. As soon as she looked at it, Smith knew it was "gold."
The Lincoln Tomb Scene Was The Result Of Justin Timberlake And Jason Segel's Chemistry
Substitute teacher Scott Delacorte (Justin Timberlake) and gym teacher Russel Gettis (Jason Segel) weren't supposed to have as much screen time as they did in the final cut of Bad Teacher, but after screenwriters, Gene Stupnitsky and Lee Eisenberg and director Jake Kasdan noticed just how much chemistry the pair had, they wrote in the "I just hate slavery so so much" scene where the two share a hilarious back-and-forth at Abraham Lincoln's tomb, as Timberlake revealed in a joint interview alongside Segel with BlackTree TV around the time of the film's release.
Director Jake Kasdan Hadn't Seen Anything Like Bad Teacher When He Was Given A Copy Of The Script
Jake Kasdan, the son of legendary screenwriter and director Lawrence Kasdan, was no novice filmmaker when he was handed a copy of the Bad Teacher script, but even then, he was still taken aback by the funny and subtle nature of the screenplay. During an interview with Collider, the future director of Jumanji: Welcome to the Jungle and Jumanji: The Next Level, said that after falling in love with the script, he knew he had to make it:
Now if the proposed sequel from the team behind Bad Teacher could ever get things going, we would really be in for it.
Bradley Cooper Was Reportedly Up For The Role That Went to Jason Segel
Jason Segel's performance as gym teacher Russel Gettis is one of the best in Bad Teacher, but before the Forgetting Sarah Marshall star earned the role, he was reportedly up against some stiff competition. According to Just Jared (via The Playlist), Bradley Cooper, who was a rising star after a career-making performance in The Hangover, was also in the running for the Lebron James-hating coach with a soft spot for Cameron Diaz's Elizabeth Halsey. And while Cooper didn't end up in the movie, it's not like his career has been hurting since, especially considering his multiple appearances in the Marvel Cinematic Universe and multiple collaborations with David O. Russell in the years since.
Thomas Lennon Originally Auditioned For A Different Role Before Landing Carl Halabi
It is hard to imagine Reno 911! star Thomas Lennon playing anyone but Carl Halabi, the victim of Elizabeth Halsey's seduction and subsequent blackmail in Bad Teacher, but the comedic actor originally auditioned for the role of Principal Wally Snur, which we all know ended up going to John Michael Higgins. During a conversation with BlackBook, Lennon revealed that he really wanted to play Snur, but the competition was stiff, stating:
And in the end, it all worked out because Thomas Lennon was able to work his way into another role and the world got to see another great John Michael Higgins performance.
There Wasn't Pushback From The Studio On Bad Teacher's Jokes
This next bit of trivia is impressive as it is interesting, especially considering that Bad Teacher was a major studio Hollywood picture with a lot of moving parts. During an interview with CinemaBlend before the film's release, Cameron Diaz revealed that Gene Stupnitsky and Lee Eisenberg came up with was pretty much shot as is except for a few scenes where actors improvised or the bonus scene with Justin Timberlake and Jason Segel riffing about slavery and sharks. There was no one from Columbia Pictures coming in trying to justify why they were there by moving stuff around and the cast and crew were able to plow the shoot with no major issues.
Cameron Diaz And Justin Timberlake Had No Problems Working Together Despite Their Breakup A Few Years Earlier
It's all but forgotten these days, but Cameron Diaz and Justin Timberlake were a few years past the break-up of their four-year relationship when they were both cast in Bad Teacher. And although it may have seemed a little awkward from the outside, Diaz told Playboy (via People) in 2010 that there were no issues between the two and that she actually liked working with him, stating:
And judging by the on-screen chemistry between Cameron Diaz and Justin Timberlake, the two really enjoyed working together.
That about does it for the behind-the-scenes facts for Bad Teacher. Who knows, maybe another random 2011 comedy will become popular on Netflix once again, and if it does, we'll have some more trivia for you here at CinemaBlend.
Philip grew up in Louisiana (not New Orleans) before moving to St. Louis after graduating from Louisiana State University-Shreveport. When he's not writing about movies or television, Philip can be found being chased by his three kids, telling his dogs to stop yelling at the mailman, or yelling about professional wrestling to his wife. If the stars properly align, he will talk about For Love Of The Game being the best baseball movie of all time.
Your Daily Blend of Entertainment News
Thank you for signing up to CinemaBlend. You will receive a verification email shortly.
There was a problem. Please refresh the page and try again.