Macaulay Culkin's Home Alone Mask Game Is An A+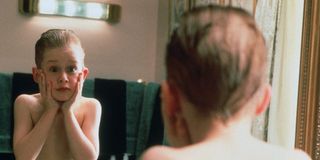 If there's one movie most people remember Macaulay Culkin from, it's Home Alone. The Christmas comedy is still a favorite 30 years after it premiered. Macaulay Culkin has embraced the Home Alone nostalgia before, but now he's taken it a step further with his excellent mask game.
During these unprecedented times, everyone is encouraged to wear a mask when going out in public. So, Macaulay Culkin decided to help spread awareness on his social media in the most meta, hilarious way possible. Check out the mask in question below,
It's hard to top a mask game that good. Though I have to admit it might be a little eerie and bizarre if you ran into Macaulay Culkin wearing that mask. It might be almost too much to take in the moment.
Whenever Christmas comes around, Macaulay Culkin can't really escape Home Alone, so he mostly seems to have learned to embrace it. But, that's not to say he watches the movies all too often, except maybe on rare occasions. In fact, he admitted a few years back that he hadn't seen it in over fifteen years, mostly because he sees the movie differently than most people.
Despite not really wanting to watch the movie too often, he surprisingly reprised his role as Kevin McCallister in a small Google ad. Said video remade classic scenes from the movie, but with the character now as an adult. And it's probably the closest thing we're going to get to a Home Alone sequel with Macaulay Culkin.
Of course, Macaulay Culkin played Kevin McCallister in both Home Alone and Home Alone 2: Lost in New York. Of the two, he says his favorite to work on was Home Alone, because they didn't know what they were getting into and they didn't have to fly all over. Many hardcore fans would probably agree that Home Alone trumps Lost in New York.
After Home Alone, Macaulay Culkin appeared in various movie and TV projects throughout the 90s, like My Girl, The Good Son, and The Pagemaster, but as he grew older, he took longer breaks in-between projects. Despite the long stretches, he still maintained his celebrity status as the kid who terrorized the burglars played by Joe Pesci and Daniel Stern that invaded his home.
In recent years, Macaulay Culkin has tried to take on more acting projects. He auditioned for a role in Quentin Tarantino's Once Upon A Time...in Hollywood, but he admitted that it was, in his words, a "disaster." That aside, he has appeared on several TV shows, including Kat Denning's Hulu show Dollface. He also nabbed a role in the upcoming season of American Horror Story. So, don't be surprised if you see Macaulay Culkin around more often.
Your Daily Blend of Entertainment News