Tom Hanks Is Doing A Western Next, Because I Guess He Ran Out Of WWII Movies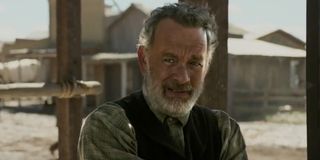 Tom Hanks is at it again. The acclaimed actor can't seem to get enough of historical dramas. He's appeared in a number of these pictures in the past, many focused on WWII, of course. Now he's got another locked and loaded and coming very soon, but this time it's a western because I guess he ran out of WWII movies.
Well and considering Greyhound, the WWII naval movie Tom Hanks wrote and starred in, just released on Apple+ this summer, it's probably a good idea he puts WWII pictures on the backburner for a while. Now, he's hopping back in the saddle with Paul Greengrass, starring in News of the World, about a Civil War veteran that tries to take a girl back to her family. Check it out:
On top of doing WWII dramas, Tom Hanks really likes to play captain roles. From Saving Private Ryan as Captain Miller to Captain Phillips to his latest foray in Greyhound as Captain Krause and of course, I honestly don't think I'd be surprised if he appeared in a movie about Captain Crunch. At least, until this new movie came to our attention.
While he loves to be in historical dramas, News of the World would be Tom Hanks first western (if you don't count his iconic portrayal of Woody in Toy Story), which is pretty surprising considering he looks right at home in this TV spot. Regardless of the movie Tom Hanks stars in, he always finds a way to bring an emotional center to his characters, and it looks like he found that for Captain Jefferson Kyle Kidd.
Though this is his first western, this is not his first rodeo working with director Paul Greengrass. You may recall the two worked together in the based-on-a-true-story Captain Phillips, about Captain Richard Phillips' cargo ship being hijacked by Somali pirates in 2009. That movie garnered the two six Academy Award nominations and it looks like they're trying to strike the same energy for News of the World.
News of the World is based on the novel of the same name by Paulette Jiles and is about widower Captain Jefferson Kyle Kid who travels from town to town delivering the news before agreeing to bring a kidnapped girl thousands of miles across dangerous territory to her family. The western was originally in development under the Fox 2000 label, but after the Disney/Fox merger, 20th Century Fox dropped the label, leaving News of the World without a home. Universal Pictures scooped up the rights to the drama and it looks like it's on the rails to release this Christmas.
After this, it doesn't look like Tom Hanks has any WWII pictures on his schedule for the future, but that doesn't mean you won't see him in more historical dramas. He's set to appear in Baz Luhrmann's Elvis Presley movie when it releases on November 5, 2021. For more movie news, be sure to stay tuned to CinemaBlend.
Your Daily Blend of Entertainment News
Your Daily Blend of Entertainment News
Thank you for signing up to CinemaBlend. You will receive a verification email shortly.
There was a problem. Please refresh the page and try again.