NYPD Offering Reward For Anyone With Info On Who Sucker-Punched Rick Moranis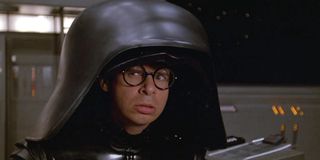 It's been a little over a week since we heard the terrible news that someone sucker-punched Rick Moranis in New York City, sending the Honey, I Shrunk the Kids actor to the hospital for injuries to his head, back, and hip. Now, it looks like the NYPD is on the hunt and offering a reward for anyone with information on who did it.
The 67-year-old Rick Moranis was walking near his apartment building at 7:30am when someone punched him in the head, knocking him to the ground. They have yet to find the assailant. So according to The New York Post, the NYPD is offering $2,500 to anyone who can offer information that leads to an arrest.
This news will likely please Captain America star Chris Evans who, after hearing about the unprovoked attack on Rick Moranis, sounded off on social media about not being happy about the attack. He wanted action, and it looks like he's getting it. It's definitely not surprising that the actor would want to see something done about the incident. He has proven to be a bit of a hero himself on more than a few ocassions.
Fellow Canadian actor Ryan Reynolds, who recently brought Rick Moranis back into the spotlight for a hilarious Mint Mobile ad, gave a spot-on response on social media when he heard the troubling news, saying, he "should have known not to subject Rick to the year 2020." He also expressed relief in knowing that Moranis is doing well.
As many already know, Rick Moranis, who is now practically a legend for his roles in Spaceballs, Ghostbusters, and Honey, I Shrunk the Kids (among other movies) has taken a long hiatus from showbusiness. Following his wife's death from cancer, he decided to make taking care of his kids his main priority. So he's primarily done voiceover work in Manhattan.
While he has taken a long break, it looks like he's gradually coming back. He's made rare TV appearances in the past and, besides the Mint Mobile, he's also been confirmed to be playing a role in the Honey, I Shrunk the Kids reboot with Josh Gad playing his son.
But, if you're hoping that means he'll be back for Ghostbusters, you probably shouldn't get your hopes up. He famously didn't return to the 2016 Ghostbusters reboot. And it doesn't look like he's returning to Ghostbusters: Afterlife either, even though many of the former cast is returning, such as Dan Aykroyd, Bill Murray, Sigourney Weaver, and Ernie Hudson.
Regardless, it's unconscionable what happened to him and, hopefully, he makes a speedy recovery. After so many years, it would be awesome if we got some kind of Moranissance. For more movie news, stay tuned to CinemaBlend.
Your Daily Blend of Entertainment News
Thank you for signing up to CinemaBlend. You will receive a verification email shortly.
There was a problem. Please refresh the page and try again.