Dune's Timothee Chalamet Has Set The Record Straight On Those Viral Makeout Photos With Lily-Rose Depp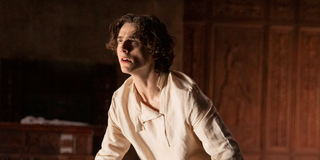 It doesn't take long for an actor to go from an unknown to an A-lister -- just ask Timothee Chalamet. But while a stunning rise to fame makes for a whirlwind experience, there are also some drawbacks involved. The Dune star recently admitted that some viral photos of him making out with his girlfriend, Lily-Rose Depp, weren't exactly the kind of headlines he was hoping to get.
Timothee Chalamet met Lily-Rose Depp on the set of Netflix's The King in 2018. While it's not clear exactly when the pair began dating, they were a couple by the time they arrived at the Venice Film Festival to promote the film in late summer 2019.
Following The King's premiere, paparazzi photos of Timothee Chalamet and Lily-Rose Depp canoodling on a yacht were released. From the perspective of your average social media user, it was just another viral celebrity moment -- fans dissected everything from the awkward angle at which the two were kissing to the purpose behind the pictures showing up online, questioning whether it was a publicity stunt for the movie.
For Timothee Chalamet, the reveal of the pictures meant something else entirely -- an eye-opening and embarrassing moment. The actor told GQ:
It's easy to see where Timothee Chalamet is coming from -- few people would want to have less-than-flattering photos of themselves served up to a jury of millions of anonymous internet users. Having those photos be part of an intimate moment would be way worse. It sounds like he took the whole thing in stride, though -- and that he's aware that one drawback of pursuing his passion is having his life under a microscope.
That hasn't stopped him from continuing to build an impressive career. After a breakout year in 2017 with Lady Bird and an Oscar-nominated performance in Call Me By Your Name, Timothee Chalamet has continued to solidify himself as one of Hollywood's most sought-after young actors. Last year, he starred in Greta Gerwig's much-lauded (and memed) Lady Bird follow-up, Little Women.
Now, he's tackling a new challenge -- the Hollywood Blockbuster. Right before his (unfortunately) big moment in Venice, he finished principal filming as lead character Paul Atreides in Denis Villeneuve's adaptation of Dune. The sci-fi drama has been delayed due to the ongoing COVID-19 pandemic and will hit theaters in October 2021.
Your Daily Blend of Entertainment News
Your Daily Blend of Entertainment News
Thank you for signing up to CinemaBlend. You will receive a verification email shortly.
There was a problem. Please refresh the page and try again.