Robert Downey Jr.'s Sherlock Holmes Sequel Has Hit A Roadblock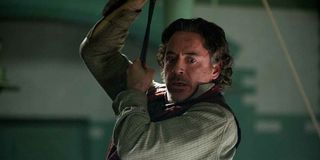 After waiting for a sequel to Robert Downey Jr.'s Sherlock Holmes: A Game of Shadows for nine years, fans may have to wait a bit longer. The Sherlock Holmes sequel has hit something of a roadblock. According to the director, the project is on the sidelines until things can get figured out.
Director Dexter Fletcher, hot off the release of his widely praised Elton John biopic Rocketman, has been tapped to tackle Robert Downey Jr.'s third adventure as the famous detective Sherlock Holmes. But the road forward sounds winding and rocky. Dexter Fletcher recently told the podcast Celebrity Catch Up that the project has stalled:
That's a bit of a gut punch for fans eager to see the next Sherlock Holmes movie. But the silver lining is that Dexter Fletcher still wants to push ahead and make it happen. We might just have to wait a bit longer before it does.
What's strange about all this is that it comes on the heels of Robert Downey Jr. reportedly having his eyes set on a much grander picture for the franchise. Now that he's moving beyond Marvel, he wants to build the Sherlock Holmes franchise into a cinematic universe, using the same world-building as the MCU (via Fast Company). Perhaps those plans have complicated things and they want to take their time to prepare as well? It's hard to say for sure.
Of course, it's no secret that current global events have made it a challenge for Hollywood to get productions up and running. But despite the hurdles, several movie productions, like Dwayne Johnson's Red Notice have been making it happen, albeit with very strict safety guidelines in place.
Back in March 2019, before the world was turned upside down, Sherlock Holmes 3 was already pushed back to December 22, 2021. Now with the current state of things, and Dexter Fletcher's statement about the project being on the back burner, it's highly likely that date will get pushed back even further.
Dexter Fletcher took over Sherlock Holmes 3 after Guy Ritchie decided not to return for the threequel. He has recently skyrocketed to acclaim after taking over directorial duties for Bryan Singer on Bohemian Rhapsody and then tackling Rocketman. While details are fairly slim on what Sherlock Holmes 3 will be about, a few years back Jude Law shared a small detail, saying it will continue to dive into Sherlock and Mr. Watson's relationship and "play up the fact that they haven't seen each other in a long time either."
Hopefully, production for Sherlock Holmes 3 isn't stalled for long and they can get things back in gear. Until then, stay tuned to CinemaBlend for the latest.
Your Daily Blend of Entertainment News