The Rock Details The Filming Procedures Netflix's Red Notice Has Undergone To Stay Safe And 'Productive'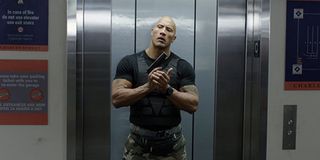 After pushing the pause button on Netflix's Red Notice due to current events, Dwayne "The Rock" Johnson, Gal Gadot, and Ryan Reynolds have returned to filming. Now, Dwayne Johnson is giving us a closer look at some of the filming procedures they've put in place to stay safe and productive. And it's quite the production.
More and more movies are starting up production again, but it hasn't been without obstacles-- with many putting extensive safety protocols in place. Red Notice is no exception with Dwayne Johnson recently sharing on social media the efforts they've taken to keep his large 300+ crew safe. Check it out below:
As you can see from the photo crew members, including Dwayne Johnson, are wearing masks and face shields. And as he said, those in the photo are only a slice of the large crew they've got on the set. In fact, they've set up "multiple zones" to help practice social distancing.
Production for Red Notice kicked back into gear in late September, the goal date they had hoped to start up again. Dwayne Johnson shared a photo on his Instagram, praising his agile crew as they filmed under difficult and unprecedented conditions. Red Notice had previously been filming earlier this year from January to March in Atlanta. Like many movies at the time, it was forced to shut down due to the coronavirus. Initially, they hoped it would only be a two-week delay, but that delay lasted much longer.
Social distancing zones, masks, and face shields aren't the only precautions Red Notice is taking. They also are doing extensive COVID testing. Both Ryan Reynolds and Gal Gadot, who co-star in the film with Dwayne Johnson, shared their tests on social media. This further helps to show how serious the health protocols are being taken. Which makes sense considering the many risks involved, including having to shut down production again if someone got sick.
Red Notice is kind of a big deal for Netflix. Not only did the streaming giant spend a large sum to gain the rights to the film, but it'll be the first time it has Dwayne Johnson and Gal Gadot in one of their movies. It will be the second time for Ryan Reynolds to join a Netflix film, previously appearing in 6 Underground.
Written and directed by Skyscraper's Rawson Marshall Thurber, Red Notice is about an Interpol agent hunting down the world's most notorious art thief. Dwayne Johnson will play the Interpol agent while Gal Gadot will play the art thief with Ryan Reynold's playing a talented con-man. Originally, Red Notice was slated for release on June 12, 2020, but since getting scooped up by Netflix and suffering delays, it's unknown when it'll land on the streaming service. Stay tuned for the latest on CinemaBlend.
Your Daily Blend of Entertainment News