There's A Star Wars Reference In Small Axe That John Boyega Thought About Removing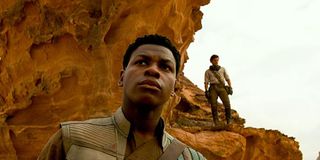 John Boyega may be done with Star Wars but Star Wars isn't done with him. He's been hard at work on several post-Star Wars projects recently, including the Steve McQueen mini-series Small Axe. And, as it turns out, there's a Star Wars reference in it that John Boyega thought about removing.
John Boyega plays Logan Leroy in the fifth installment of Small Axe entitled Red, White, and Blue. In the episode, his character considers joining the police and says he's going to join the "force." So, CinemaBlend's own Jeff McCobb couldn't help but ask John Boyega about that Star Wars reference when he sat down with him to talk about Small Axe. Here's what John Boyega said:
The Star Wars reference is either a serious coincidence or a funny not-so-subtle nod by director and writer Steve McQueen. Whatever the reason, it doesn't sound like John Boyega was bothered by it too much and went with the flow of the script.
After Star Wars: The Rise of Skywalker released, John Boyega had been fairly vocal about his experience being in the franchise, most of it not very positive, and has called out Disney for pushing non-white actors to the sidelines. He's also been fairly blunt with toxic fans on social media. Despite that, it seems like John Boyega is ready to move on. He's already got several new projects lined up, including Small Axe, two Netflix's movies called They Cloned Tyrone with Jamie Foxx and Rebel Ridge, a crime thriller called Naked Singularity, and Borderland. So, yeah, he's got his work cut out for him.
Small Axe is a period piece that features five films focusing on London's West Indian community between the 1960s to the 1980s. In Red, White, and Blue, John Boyega portrays the retired police officer Leroy Logan. After witnessing his father be assaulted by the police, Logan decides to join the police force to make changes. In 2001, he was awarded the MBE (Member of the Most Excellent Order of the British Empire) by Queen Elizabeth II for putting anti-racist policies in place.
Small Axe has already premiered at various film festivals with wide acclaim but will release to a wide audience on Amazon Prime on November 20th, 2020. For more movie news, be sure to stay tuned to CinemaBlend. And be sure to check out our 2020 release list to plan your next movie experience.
Your Daily Blend of Entertainment News