One Harry Potter Actor Likes Not Being Recognized Nearly A Decade After The Final Film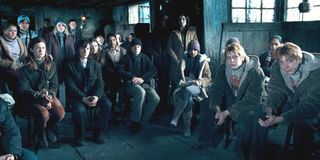 You'd think that appearing in one of the most famous film franchises of all time would guarantee a lifetime of fame. But while some actors struggle to move on from the movie roles that made them famous worldwide, at least one Harry Potter actor has managed to keep his career going while still avoiding constant recognition.
Harry Melling appeared in five of the eight Harry Potter films, playing the protagonist's mean-spirited cousin Dudley Dursley. He was just 12 years old when Harry Potter and the Sorcerer's Stone became a global phenomenon, so it's safe to say he did a lot of his growing up in the spotlight.
So it may come as a surprise that he was able to stay fairly low key as he graduated and moved onto a new phase in his career. During the course of his tenure with the Harry Potter franchise, he lost a considerable amount of weight, which helped him shed some immediate recognizability. He told People that this ended up working in his favor:
Even though it's been a nearly a decade since the original Harry Potter film series wrapped up - The Deathly Hallows Part 1 premiered in 2010, and the final installment hit theaters in 2011 - Dudley Dursley's journey in the franchise technically ended even before then.
Though Harry Melling filmed scenes for Harry Potter and the Deathly Hallows Part 1, in which Dudley and Harry have an awkward reconciliation of sorts, that moment was cut, and he can only be briefly glimpsed in the beginning of the film. His last big moments in the film series happened in 2007's Harry Potter and the Order of the Phoenix.
Still, since the Dursleys are some of the first characters we meet in Harry Potter, Dudley remains one of the most memorable -- and, to some, underrated -- players in the series. It's nice to hear that Harry Melling has been able to take his role and use it to build a meaningful career all his own. These days, he's keeping pretty busy. He's appeared in three recent Netflix projects, The Queen's Gambit, The Old Guard, and The Devil All The Time with fellow Harry Potter alum Robert Pattinson.
Your Daily Blend of Entertainment News
Your Daily Blend of Entertainment News
Thank you for signing up to CinemaBlend. You will receive a verification email shortly.
There was a problem. Please refresh the page and try again.