Kanye West Shares Blunt Thoughts About Disney's Star Wars Movies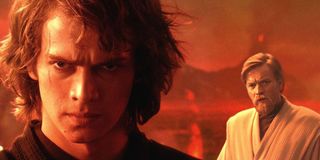 Kanye West has never had many qualms about sharing his opinions, no matter how unpopular or controversial they may be. That's been the case when it comes to the music industry and politics. Now, he's decided to let the world know what he thinks of Disney's Star Wars films.
To be fair, Kanye West is not alone in having strong feelings about the trajectory of the Star Wars franchise. From the prequels to the end of The Rise of Skywalker, Star Wars fans have engaged in frequent discourse online about what has, and hasn't, worked in the nine films and subsequent spin-offs the franchise has delivered over the years.
It seems like one of Kanye West's pandemic pastimes has been immersing himself in George Lucas' epic fantasy series -- and apparently choosing to weigh in on that discourse. During a recent interview on The Joe Rogan Experience podcast, he let his feelings about Star Wars get the better of him for a moment:
It's a controversial, but not unheard of opinion, to say the least -- one that Kanye was happy to clarify why he feels the prequels held up:
While Kanye West didn't come right out and disparage the new Star Wars films, he made it clear where his allegiances lie. He's not the first person to come out in defense of the prequels, either. Over the years, the three controversial films have seen somewhat of a reappraisal, and fans have come to appreciate The Phantom Menace, Attack of the Clones, and Revenge of the Sith.
Whether you agree with Kanye's Star Wars feelings or not, it's worth stating that one of the biggest complaints about the most recent Star Wars films is that their narrative arcs strayed too far away from George Lucas' original vision. So in defending the prequels, Kanye West's argument is not completely unfounded. Given his propensity for airing his grievances on Twitter, maybe someday he'll join in on a fandom debate on that platform.
The biggest question now is whether Kanye knows about Disney+'s upcoming Obi Wan series -- and what he thinks about it if he does. While we wait for those answers, you can stream Revenge of the Sith and the rest of The Skywalker Saga on Disney+.
Your Daily Blend of Entertainment News
Thank you for signing up to CinemaBlend. You will receive a verification email shortly.
There was a problem. Please refresh the page and try again.