All 4 Welcome To The Blumhouse Movies, Ranked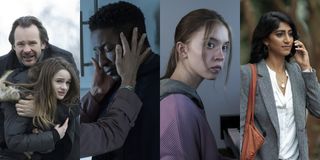 The movie-going experience has been quite different than normal in October 2020, with the most high profile horror features being delayed, but don't be mistaken – there is plenty of new, exciting genre content available for those who are looking for it. A perfect example of this is the series of Welcome to the Blumhouse movies: a collection of four scary features that rolled out exclusively on Amazon Prime Video earlier this month. It's a diverse group of titles, with each one having its own way of getting into audiences' minds, but ultimately excellent fodder for the holiday season.
Emmanuel Osei-Kuffour's Black Box and Veena Sud's The Lie debuted the first week of October, and Zu Quirke's Nocturne and Elan and Rajeev Dassani's Evil Eye came out the second – and now that they are all available, we figured we'd have some fun stacking them against each other. Which one of the released titles is the best of the bunch? How should you prioritize each of the movies on your Halloween watch list as we get closer to the big day? Read on and find out!
4. The Lie
The question of how much of your life you would sacrifice to help someone you love is a common theme in cinematic history, but in The Lie it is put under the microscope with a very intimate story about a girl (Joey King) and her divorced parents (Peter Sarsgaard, Mireille Enos). When the teenager commits a horrible act that could potentially ruin her entire future, her mom and dad instinctually leap to her protection and try to figure out the best way to shield her from consequences – but pulling that off requires going to lengths they never would have considered prior.
There is a problematic predictability in The Lie, as most viewers will probably be able to guess where it's going with its plot within the first half hour, and that's pretty much what lands it in fourth place on this list. That being said, you can still very much enjoy the journey before arriving at the destination, as all three of the leads provide great performances, and Veena Sud orchestrates climactic confrontations between characters. It's tightly paced, and while the end doesn't deliver the impact it's clearly hoping for, you can still appreciate the effort being made.
Read our full review of The Lie here.
3. Evil Eye
Thanks to massive advances in communication technology, remote relationships have become a regular part of everyday life, and while that's not something that we see a ton of in film, it's explored in an interesting way in Evil Eye. The mother and daughter at the center of the story are separated geographically by thousands of miles, something that only exacerbates their frequent arguments about the latter's romantic life, and as the drama increases, so does the tension as the distance means that much more.
In the film, Sarita Choudhury and Sunita Mani deliver great performances as the leads of the story, which finds its drama when Mani's character finally meets a man (Omar Maskati) that makes her happy and to whom she wants to commit. Her mother protests, and while the theory is that it's because her daughter's potential-future-husband wasn't personally selected by her, the truth is that she believes there is some kind of connection between the boyfriend and a horrific event from her past.
Read our full review of Evil Eye here.
2. Black Box
Adding to the list of subgenres covered by the Welcome To The Blumhouse features, Black Box has the sci-fi horror angle covered, as its title comes from the name of a device that is used to try and help the movie's protagonist: Nolan (Mamoudou Athie), a young man suffering from retrograde amnesia following a car accident that killed his wife. His life falling apart due to his failing memory, as he is let go from his old job and at risk of losing guardianship of his daughter, he agrees to take part in an experimental procedure created by a neuropsychiatrist at a local hospital (Phylicia Rashad). The therapy uses a kind of virtual reality that allows him to re-inhabit his old experiences, but what it winds up unlocking is dangerous and unexpected.
Of the four Welcome To The Blumhouse movies, Black Box is the scariest of the bunch, as it employs contortionist Troy James to wonderful effect, representing a lurking being in Nolan's mind. The film is also inventive and cool, crafting a solid mystery, and while the full scope of the feature doesn't allow it to explore all of its ideas to their full potential, it can be lauded just the same. It's also notably the only one of the four titles to set up a possible sequel, and if that would mean a story that further expands on the great stuff already presented, then that should definitely happen.
Read our full review of Black Box here.
1. Nocturne
Cinema has seen some excellent films about witchcraft released in the last few years, including Robert Eggers' The Witch, Ari Aster's Hereditary and Luca Guadagnino's Suspiria, and now we have Nocturne to add to the trend. The film has a very basic structure, but Zu Quirke demonstrates a great stylistic flair in her directorial debut, and she emerges as the most exciting filmmaker from the Welcome To The Blumhouse class.
A movie that could be elevator pitched as "Whiplash with a dose of the supernatural," Nocturne centers on a pair of twins who grew up together as pianist prodigies, though as they are about to graduate from their esteemed music academy one (Madison Iseman) has proven to be more talented than the other (Sydney Sweeney). Tired of always accepting second best, the latter sister finds herself with captivating opportunity when she discovers the notebook of an ex-classmate who committed suicide and realizes that it may be a kind of spell book. She finds herself walking on the path provided by the magic, providing a twisting and thrilling narrative for what is the best of the four Welcome To The Blumhouse films.
Read our full review of Nocturne here.
Are you now more excited to check out these movies? For those of you who already watched all four, do you agree with our ranking? Let us know what you think in the comments section, check out our full reviews of the movies, and should you be in the Halloween mood, check out the Welcome To The Blumhouse films now on Amazon Prime (opens in new tab).
Assistant Managing Editor
NJ native who calls LA home and lives in a Dreamatorium. A decade-plus CinemaBlend veteran who is endlessly enthusiastic about the career he's dreamt of since seventh grade.