Octavia Spencer's Best Performances, Ranked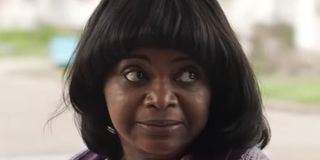 You know who's a real gem of an actress? Octavia Spencer. It might be unfair to say this, but if acting was basketball, then Octavia Spencer would probably be the industry's MVP when it comes to assists. That's because when you typically think of Octavia Spencer movies, you probably think about how she's often the most shining performance in a supporting role. That's not to say that she doesn't take on lead roles, as she had an important one just recently in HBO Max's The Witches. That said, most of her most memorable performances are usually of her giving a helping hand.
But support is so, so important, and it can make or break a story. That's likely why Ms. Spencer won a Best Supporting Actress Academy Award for The Help, and was also nominated two other times for Hidden Figures and The Shape of Water. But if there is any one truth about Octavia Spencer, it's that she's an impeccable actress and we're lucky to have her. Now on with the list.
10. Zootopia (Mrs. Otterton)
Voice acting is no easy feat, especially when you're playing the diminutive Mrs. Otterton in Disney's hit movie, Zootopia. Emotions run high in this film, and Octavia Spencer's performance as a woman looking for her missing husband is a shining moment in a movie just brimming with shining moments. It's such a little role, but Octavia Spencer manages to get us all emotionally invested in the search for her husband, and we're rooting for Lt. Judy Hopps and Nick Wilde to find him.
But what really makes this performance special is just how well Octavia Spencer's voice disappears into the character. Sure, if you know it's her, then you'll hear her. But if you don't know it's her, then you'll just get fully invested in this character's plight and sadness and will most likely say, "That was Octavia Spencer?" once you read the closing credits. She's just too good. Even as an otter.
9. Snowpiercer (Tanya)
With such massive and memorable performances by Tilda Swinton, Ed Harris, and Chris Evans, it's often easy to forget that Octavia Spencer is even in Bong Joon-ho's Snowpiercer. But once you watch it again, you'll remember her since she plays such an important but subtle role as Tanya, a mother who is determined to get her son back from authoritarian forces. She has a voice and she uses it to motivate people, much to great effect.
And while I won't spoil the movie for you in case you haven't seen it yet (and if you haven't, it's currently on Netflix) what ultimately happens to her will make you pound the armrest of your seat once you get invested in her character. Which is why Snowpiercer is a good movie on your first watch, but a great movie on your second or third viewings. And Octavia Spencer is just one of the reasons why. She's acting her butt off without you really even noticing it. Because that's just how great she is.
8. Onward (The Manticore)
I love Onward. In fact, it's actually my new favorite Pixar movie, despite its lackluster performance at the box office. But as much as I love the overall story of two sons trying to bring back their father, what I love just as much is the characters. And Octavia Spencer comes in the blow us all away again as the once fierce, but now family-friendly, Manticore.
Octavia Spencer is hilarious since she has to withhold the seething, relentless rage that her species is known for, but also keep it all under wraps so that she can run a fantasy-themed restaurant. Of course she can't hold it all together for too long, nor would we ever want her to.
7. Divergent (Johanna)
I'm going to be honest with you. I don't like the Divergent series. It came out in that really awful period following The Hunger Games where it seemed like every somewhat popular YA series (think The Maze Runner, The 5th Wave, The Mortal Instruments… or don't think of them) was getting greenlit for a movie. So, um, yeah. I kind of hate Divergent. But of the two movies I've seen in the series, she was the best part in both of them.
Octavia Spencer plays a former speaker of one of the factions who then started her own Allegiant group. I always found the series to be too loud and obnoxious, but in comes Octavia Spencer, speaking softly but with authority as a leader. She shines a bright light on a series that didn't deserve her talent but somehow got it anyway. In other words, Octavia Spencer made a series that I would consider intolerable actually watchable, which is no small feat.
6. Fruitvale Station (Wanda)
Do you want to cry your eyes out? No? Then don't watch Fruitvale Station, because you will cry your eyes out. Michael B. Jordan delivers a knock-out performance as real-life victim, Oscar Grant III, but it's Octavia Spencer who does most of the heavy lifting as his mother in the film, Wanda Johnson.
Octavia Spencer's performance will tear you apart when she cries about how she should have told her son to drive into the city rather than take the BART train where he lost his life at the station after being shot by a BART police officer. Octavia Spencer won a Best Supporting Actress award at the National Board of Review and deserved it. And if you ask me, she should have won the Oscar, too.
5. Self Made: Inspired By The Life Of Madam C.J. Walker (Madam C.J. Walker)
True story: While talking to a colleague of mine last year at the school I work at, she asked me, the resident movie nerd, if there was a film based on the life of Madam C.J. Walker. I told her I didn't think there was, but if they ever made one, they should cast Octavia Spencer. And lo and behold, Netflix made a fictionalized miniseries about Madam C.J. Walker starring Octavia Spencer. Am I good, or what?
Actually, it's pretty obvious that Octavia Spencer should take on the role, and she's great in it. We see her ultra-humble beginnings as a washerwoman, to the discrimination she faces, and ultimately as she creates a hair empire. The series itself is the only thing sort of holding it back more, as it could be a tad more interesting. But there's no denying how great Octavia Spencer is in it. She knocks it out of the park, as always.
4. The Shape of Water (Zelda Delilah Fuller)
If you read my list of the best Best Picture winners of the 2010's, then you'll know that I'm not a fan of The Shape of Water. I mean, it's fine, but it's a bit too artsy fartsy for my tastes. But once again, in for the save comes Octavia Spencer who plays the protagonist's good friend and interpreter.
Again nominated for an Academy Award for Best Supporting Actress, I kind of get bored watching The Shape of Water. But every time Octavia Spencer's on the screen to prevent Sally Hawkins' character from doing something she'll regret, she somehow pulls me through a story that I know I'm supposed to like, but don't.
3. The Help (Minerva "Minny" Jackson)
Winning her only Oscar (Criminal!) for her role as a maid who is fired for using a guest bathroom but then tells her story to a young journalist, The Help is an extremely enjoyable film that unfortunately hasn't aged well since its 2011 release.
But Octavia Spencer's performance is still aces. She's sympathetic, but also probably the only actress who could make taking a dump in somebody's pie feel like righteous justice. The Help itself will probably not be remembered all too fondly in the next few years, but that certainly shouldn't take away from Spencer's Oscar-winning performance.
2. Ma (Sue Ann "Ma" Ellington)
Okay, honestly, I want to call Octavia Spencer's performance in Ma her best. It's definitely my favorite. In the recent horror movie, Ms. Spencer plays a deranged woman who invites teenagers to her house, and then terrorizes them because of a long lost crush she had and… I'm going to just leave it there.
But Ma is crazy! This is one messed up movie, and Octavia Spencer's character in this film is like nothing else she's ever played. There is no wholesomeness here. There is no nice best friend. Instead, we get a woman who stabs and drugs people. I never thought Octavia Spencer would actually be scary, but she is. She's terrifying! And I love her for it.
1. Hidden Figures (Dorothy Vaughan)
But you know what? Years from now, I'm pretty sure Octavia Spencer's most remembered performance will be as real-life smarty pants, Dorothy Vaughan, in Hidden Figures. She plays a mathematician and supervisor, and daggum, I never for a second didn't believe a single word that came out of her mouth. She is Dorothy Vaughan, which is even more special since I never even heard of Dorothy Vaughan until I saw this movie.
Which is kind of the point of the film, right? Giving voices to the oft-ignored? But the fact that Octavia Spencer gives so much life and power to this character in the racist 1960s, well, it just makes this performance all the more special. Years from now, kids will be inspired by Octavia Spencer's acting and will want to learn more about this exceptional woman, and it's all because of this exceptional performance.
Octavia Spencer may not specialize in powerhouse leading roles like Viola Davis, but her performances are just as vital when elevating a movie from being just good to being fantastic. That's the power of an Octavia Spencer performance!
This poll is no longer available.
Your Daily Blend of Entertainment News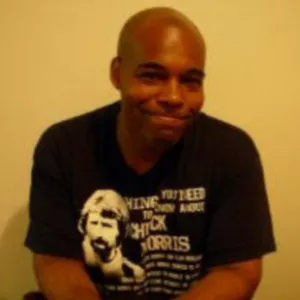 Rich is a Jersey boy, through and through. He graduated from Rutgers University (Go, R.U.!), and thinks the Garden State is the best state in the country. That said, he'll take Chicago Deep Dish pizza over a New York slice any day of the week. Don't hate. When he's not watching his two kids, he's usually working on a novel, watching vintage movies, or reading some obscure book.