Dwayne Johnson Shares Dapper Red Notice Photo With Ryan Reynolds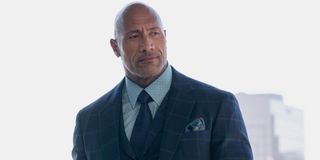 Dwayne Johnson and Ryan Reynolds are two classy guys in general. They also happen to be working together on Netflix's upcoming action-thriller Red Notice after appearing in Hobbs and Shaw briefly together. On set, Dwayne Johnson's been providing behind-the-scenes photos and now he's shared another, featuring the two dapper gentlemen actors.
It was Ryan Reynolds' birthday last week, something Hugh Jackman brought to the world's attention on social media with a funny joke. Now Dwayne Johnson has also thrown out a "Happy Birthday" post to his co-star Ryan Reynolds on social media by sharing a well-dressed photo of the two of them looking like they're having a grand time. Check it out:
They certainly look like they're having fun on the Red Notice set. Though it also seems like Dwayne Johnson is holding a pair of handcuffs, meaning when he's back in character as an Interpol agent, he'll likely not be so chummy with his co-star, who's supposed to be playing the world's greatest con-man in the upcoming Netflix film.
It should be noted that The Rock and Ryan Reynolds started filming Red Notice back in January, but like many movie and TV projects this year, things have been prolonged. In fact, things took a turn for the worse in March when production was shut down. Back then, they hoped it would only be a two-week delay, but production ended up being delayed for months and only recently returned to form.
While production was originally shut down due to current events, Ryan Reynolds admitted that there were other things setting back production. He and Dwayne Johnson had known each other for some 15 years and had made a habit of goofing around on set, making each other laugh and having to do multiple takes. From the looks of this new photo, they're back to those old habits now that filming's underway again.
Red Notice started filming again in late September. Since then, Dwayne Johnson has been sharing behind-the-scenes photos to his social media, several of which showcased the many safety protocols the Netflix movie has been putting into place. For his part, Ryan Reynolds also shared photos of taking a COVID-19 test before heading back on set.
Whether on set or on social media, the joking never really stops for these two. For instance, a little under a month ago, Ryan Reynolds poked fun at Dwayne Johnson by sharing own on-set photo. Check it out:
Then, after Dwayne Johnson reportedly ripped down his own gate when he couldn't get in, Ryan Reynolds took to social media to give his co-star some sage advice about what he could have done differently, saying:
Red Notice has long been a big deal for Netflix since it scooped up the project from Universal Studios at a high price tag. It'll be Dwayne Johnson and Gal Gadot's first movie that heads directly to streaming, and Ryan Reynolds' second film on Netflix. Now that we're seeing how much fun Dwayne Johnson and Ryan Reynolds are having with the movie, it continues to raise the prospect that this will be one to watch when it inevitably lands on Netflix. In the meantime, you can take a look at what's still set to drop in 2020 with our full schedule.
Your Daily Blend of Entertainment News
Your Daily Blend of Entertainment News
Thank you for signing up to CinemaBlend. You will receive a verification email shortly.
There was a problem. Please refresh the page and try again.