The Rock Shared An Inspiring On Set Story From Netflix's Red Notice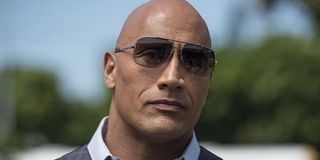 After a long hiatus due to current events, Dwayne "The Rock" Johnson is back at work on Netflix's Red Notice. He's been giving periodic updates on the set of the new crime thriller. Now he's back with another update, but this time it's got an inspiring story attached.
Dwayne Johnson is an avid social media user with over 200 million followers. He frequently posts about his workouts, his tequila business, and what he's doing on the set of his latest movie. Now he's taken to social media to talk about an inspiring story with a production assistant on the set of Red Notice. Check it out:
At face value, the terms "The American Dream" and "Son of a Plumber" seem to point to those who started at the bottom and worked their way up to achieve their goals. But, that also lacks some context that Dwayne Johnson and his production assistant point out. Let's break down what we're being shown here.
These two things are also the nicknames of famed professional wrestler Dusty Rhodes. Dusty Rhodes was a three-time NWA World Heavyweight Champion and the father of professional wrestlers Stardust and Goldust, aka. Cody and Dustin Rhodes. With that in mind, the connection becomes pretty clear since Dwayne Johnson is a former professional wrestler himself.
Dwayne Johnson, of course, has achieved quite a lot in his career, becoming one of the highest-paid actors in Hollywood and cranking out bankable, action-packed movies almost every year. He knows a thing or two about working hard to get where you want to be. Plus, he's obviously got a history in professional wrestling.
Right now he's obviously hard at work on Red Notice, arguably one of Netflix's highest-profile movies to date. Netflix spent a ton of money to acquire this film and it'll be the first time Dwayne Johnson and Wonder Woman1984's Gal Gadot appears in a Netflix film. Ryan Reynolds, another huge star in his own right, will also co-star, which will be his second Netflix film after 6 Underground.
Red Notice has begun filming earlier this year but, like most movies, it shut down in March due to current events. They had hoped to pause production for only two weeks at the time, but that pause ended up getting extended for months until they could come up with safety protocols to put in place. Production resumed in late September, albeit with a bunch of new safety protocols. Dwayne Johnson posted earlier about these precautions, saying they've been using "multiple zones" to social distance as well as masks and face shields.
It's unknown when Red Notice will eventually land on Netflix, but since they're filming right now, it likely won't be until at least next year if not later. For more movie news, be sure to stay tuned to CinemaBlend.
Your Daily Blend of Entertainment News