Red Notice: Why Netflix's Upcoming Movie Starring Dwayne Johnson, Gal Gadot And Ryan Reynolds Is A Big Deal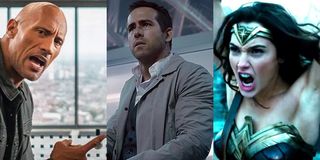 Until recent developments pertaining to Netflix's new film Red Notice occurred, we could only dream of a film where Dwayne Johnson, Ryan Reynolds, and Gal Gadot all teamed up to star in one single action-comedy. That's exactly what's happened now, thanks to the streaming studio making a big play to punch out a big ticket blockbuster that could make the company even more prominent on the map.
To understand how huge this dream team-up of a project and studio really is, we'll have to take a deeper look into just what makes Red Notice such a spectacular win for Netflix, and why having Gadot, Johnson, and Reynolds on board is such a casting coup. After all is said and done, you'll truly know what makes this particular project so special.
Red Notice Is Another Studio Pickup For Netflix
A big move that Netflix has been engaging in over the past couple of years is acquiring projects from Hollywood studios, both as completed packages, as the company did with several Paramount projects, like The Cloverfield Paradox, and as projects waiting to go before the cameras. Red Notice is the most recent prospect to do so, as Netflix scooped up the project from its original studio home.
Originally set up at Universal Studios, Red Notice was originated as a Dwayne Johnson vehicle with writer/director Rawson Marshall Thurber on board. Circumstances related to cost arose, and that project was eventually put into a position where someone else could outprice the initial studio.
At one point, the flick added Gal Gadot and Ryan Reynolds into that cocktail, and the film was too good of a project for the burgeoning streaming studio to pass up. Though this is only the beginning of what Red Notice had to offer to the public at this early phase.
Dwayne Johnson And Gal Gadot Will Be Making Streaming Exclusive Debuts
Star power like Dwayne Johnson and Gal Gadot is something that any film would be lucky enough to call its own. For some time now, Red Notice has been in possession of both the Hobbs & Shaw and Wonder Woman 1984 stars as two of its leads, which makes the project's move to Netflix a big win for the streaming giant.
Dwayne Johnson alone is a pretty big win, as his career in Hollywood has brought home blockbusters such as Jumanji: Welcome To The Jungle and the last couple Fast and Furious films, not to mention a new potential spin-off series with Jason Statham.
Combining Dwayne Johnson's popularity with that of Gal Gadot's, and you've got two really huge stars making their streaming original debuts. Gadot not only also had a hand in the Fast franchise's recent history as well, but has also catapulted to stardom with her role as Wonder Woman in the DCEU.
With each new project, the legitimacy of Netflix's -- and other platforms' -- original content rises, partially thanks to big stars like Dwayne Johnson and Gal Gadot making the jump to projects like Red Notice. If you thought you'd pay for tickets to see this film in a theater, imagine how many more people will jump onto Netflix the day and date of the launch to see it play out.
It's Ryan Reynolds' Second Big Project At Netflix
Not to make him sound like chopped liver, but Ryan Reynolds is also a huge part of what makes Netflix's Red Notice all the more noticeable. Though there's one big reason as to why he wasn't mentioned first, and that's simply because it's not his first streaming exclusive rodeo.
Reynolds will make his big debut in the Netflix original Six Underground, which is coming from the maestro of explosions and car crashes, director Michael Bay. So if anything, Ryan Reynolds and Bay are softening up the crowd for Red Notice with their brand new collaboration.
More importantly, with Ryan Reynolds coming back to Netflix for a second round with Red Notice, it's an encouraging sign that big ticket Hollywood actors such as himself don't mind leaving the theatrical experience behind.
If this particular project is successful enough, perhaps there may even be room in the story for another Red Notice adventure. This would mean we might just see Dwayne Johnson and Gal Gadot return to the streaming provider's talent stable as well.
The Budget For Red Notice Breaks A Big Netflix Rule
Quite possibly the biggest splash that Red Notice is going to make for Netflix is the fact that with a cast as big as Dwayne Johnson, Gal Gadot, and Ryan Reynolds attached, there's going to be a predicably big price tag attached to Rawson Marshall Thurber's latest film. This is something the streamer has been trying to avoid more recently.
With Triple Frontier clocking in at a $115 million budget and allegedly being a flop in the eyes of Netflix, Red Notice's estimated $160 - 200 million price tag isn't exactly falling in line with the more "budget savvy" approach the streaming provider has seemingly been trying to implement.
It's exactly why Universal Pictures dropped the film, although star Dwayne Johnson is bullish about the acquisition of Red Notice, citing it as a move of dominance on the part of Netflix. While it looks like a power play now, the pressure is going to be greater than ever for Red Notice to deliver the audience that the studio needs to justify such a spend. The threshold of involvement is noticeably easier with a streaming film, but it's a little bit harder to measure whether or not such a project is a success with Netflix's proprietary metrics system.
This new flick is still in the very early phases of production, but in some ways Red Notice already feels like the most important Netflix movie in the studio's canon right now. With a blockbuster talent roster and a huge budget to back it all up, we could be seeing the most impressive (or maybe the most disappointing) film in the studio's history forming before our very eyes.
In either scenario, it'll be worth seeing Red Notice take flight, if only because we'll be seeing Dwayne Johnson, Ryan Reynolds, and Gal Gadot in action together for the first time. As the world gets closer to this film becoming a reality, we'll see just how hot a ticket this film becomes. Until then, all we can do is wait and hope.
CinemaBlend's James Bond (expert). Also versed in Large Scale Aggressors, time travel, and Guillermo del Toro. He fights for The User.
Your Daily Blend of Entertainment News
Thank you for signing up to CinemaBlend. You will receive a verification email shortly.
There was a problem. Please refresh the page and try again.