Ryan Reynolds Takes Jab At Dwayne Johnson With Red Notice Set Photo, Because Of Course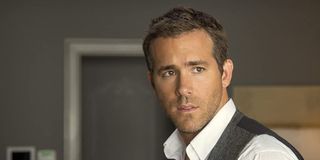 Ryan Reynolds is the master funnyman/troll on the internet, crafting hilarious, pointed ads, and maintaining a faux-feud with Hugh Jackman for years. Well, it seems like he has a new target to poke fun at, and that's none other than The Rock himself, Dwayne Johnson. Ryan Reynolds teased the former wrestler from the set of their new movie Red Notice, because of course.
Frequently on social media cracking jokes, Ryan Reynolds seems to have an endless supply of hilarious one-liners. But when he's not making his fans laugh, he's hard at work on the set of Red Notice with co-stars Dwayne Johnson and Gal Gadot. Recently, Ryan Reynolds shared on Instagram a photo of himself on set that included a funny jab at Dwayne Johnson. Take a look:
I don't know about you, but now I can't get the image of Dwayne Johnson with bangs out of my head. A point goes to Ryan Reynolds for continuing to surprise me and make me laugh.
Since coming aboard Netflix's Red Notice, Ryan Reynolds and Dwayne Johnson seem to be having fun joking around with each other. When Ryan Reynolds shot down the rumor that he would be Hawkman in Black Adam, Dwayne Johnson had a pretty funny response of his own to it.
Then, when Dwayne Johnson reportedly ripped a security gate down with his superhuman-like strength because it wouldn't open, Ryan Reynolds was quick to respond. He commented on The Rock's social media, saying, "The gate opened the OTHER way." If only we could get the security footage on The Rock's insane feat. Now that would be a sight to behold.
It turns out they've also been having quite a bit of fun on the Red Notice set. So much fun that it apparently had been delaying the production quite a bit before it ultimately shut down due to current events. Ryan Reynolds said the reason was because he's known Dwayne Johnson for 15 years and they were constantly trying to make each other laugh. However, Dwayne Johnson shot back at this and put the blame squarely on Ryan Reynolds.
Netflix's Red Notice, like many other movie productions right now, was out of pocket for a time and just recently resumed filming in late September. To show he was getting back to work on the project, Ryan Reynolds posted photos of himself on social media getting a COVID test, one of the many safety protocols they've been putting into place to keep the cast and crew safe.
As of now, it's unknown when Red Notice will land on Netflix, but we'll let you know when that information comes in. Stay tuned to CinemaBlend for the latest in movie news and Ryan Reynolds hijinks.