A Halloween-Style Reboot To The Original Ninja Turtles Movie? One Person's Trying To Make It Happen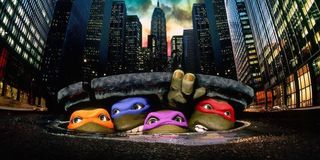 In 1990, just six years after the debuted in the comics, the Teenage Mutant Ninja Turtles made the jump to the big screen, with that live-action movie becoming a commercial success and and spawning two sequels. 30 years later, the Ninja Turtles franchise is more popular than ever, and while there are efforts underway to bring the heroes in a half shell back to the big screen, one person is looking to return to that original TMNT movie in a manner similar to what the Halloween franchise has recently done.
You'll recall that 2018's Halloween served as a direct sequel to only John Carpenter's original Halloween movie and ignored everything that happened in the sequels that followed. Bobby Herbeck, who co-wrote the first Teenage Mutant Ninja Turtles movie with Todd W. Langen, revealed he's been having conversations about taking a similar "reboot" approach with the 1990 movie. When recently asked if such a prospect would be appealing to him he answered:
Bobby Herbeck added in his interview with Comicbook.com that one of the appeals of tackling such a Teenage Mutant Ninja Turtles movie is seeing what the Jim Henson Creature Shop, which designed the animatronic Turtle suits used back in the day, could do with the Turtles now considering how much technology has advanced over the last three decades. Herbeck also mentioned he's specifically talked about this idea with Steve Barron, who directed the original Ninja Turtles movie, and Brian Henson, who's run the Creature Shop since his father, Jim Henson, passed away.
While he didn't quite spell it outright, it sounds like this idea that has Bobby Herbeck jazzed would only follow up on the events of the first Teenage Mutant Ninja Turtles movie, with Secrets of the Ooze and III being ignored. Both of those movies weren't received nearly as well as the first one, so it might be for the best handling a less cluttered slate. Clearly it worked out well for the Halloween franchise.
However, as mentioned earlier, the fact that there's already a new Teenage Mutant Ninja Turtles movie in development might prevent this particular project from moving forward. Rather than keep going with the previous live-action film series (i.e. the continuity of 2014's Teenage Mutant Ninja Turtles and 2016's Teenage Mutant Ninja Turtles: Out of the Shadows), it was announced in June that an animated reboot is in the works, with Seth Rogen and Evan Goldberg attached as producers, Jeff Rowe directing and Brendan O'Brien writing the screenplay.
So with that project being prioritized, it's doubtful that a separate Teenage Mutant Ninja Turtles movie would be tackled at the same time. But hey, stranger things have happened. Maybe there's a world where the animated TMNT movie can be aimed at a younger audience, whereas this live-action "reboot"/legacy sequel can be aimed at an older audience and fit more comfortably in the PG-13 space.
Keep checking back with CinemaBlend for more news about the Teenage Mutant Ninja Turtles film series, and find out what movies are heading to the big screen next year with our 2021 release schedule.
Connoisseur of Marvel, DC, Star Wars, John Wick, MonsterVerse and Doctor Who lore. He's aware he looks like Harry Potter and Clark Kent.
Your Daily Blend of Entertainment News
Thank you for signing up to CinemaBlend. You will receive a verification email shortly.
There was a problem. Please refresh the page and try again.