10 Cool But Rude Teenage Mutant Ninja Turtles Behind-The-Scenes Facts You Might Not Know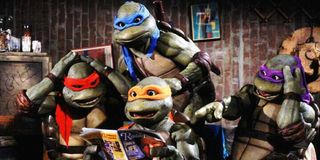 It is hard to believe that that one of the raddest, but also weirdest, comic book movies of all time, Teenage Mutant Ninja Turtles, is turning 30 this year. What better way to shellebrate the anniversary than to reveal some facts about what went down behind the scenes? Well, perhaps a pizza party would be most appropriate, but this is a close second.
The adventures of four mutated turtles, named after Renaissance painters, protecting New York City while hiding in its sewer system captured the imaginations of producers Kim Dawson and Gary Propper and original screenwriter Bobby Herbeck, and enough to inspire them to turn the story into a live action reality. Of course in the late 1980s, not everyone in Hollywood was too crazy about the idea, and that was only one of the many, many insane hurdles that the production of Teenage Mutant Ninja Turtles was forced to endure.
If you are curious to learn how a few studio executives and demanding production conditions proved to be a more threatening villain than Shredder, follow us deeper underground. The following 10 trivial bits about Teenage Mutant Ninja Turtles may leave even the film's biggest fans shell-shocked.
Bobby Herbeck Convinced Tom Gray To Greenlight TMNT By Encouraging Him To Ask His Kids About The Turtles
After being laughed at and shown the door one pitch meeting after another, stand-up comedian Bobby Herbeck, whom producer Kim Dawson approached in mind to write the 1990 Teenage Mutant Ninja Turtles movie, realized that of course adults were not going to have faith in something that was exclusively known to younger audiences. During the virtual Comic-Con panel discussion in honor of its 30th Anniversary, Herbeck revealed how he was able to convince his then boss, Tom Gray, to give the picture the green light at Golden Harvest Films:
Soon enough, Teenage Mutant Ninja Turtles was in development. The studio even had a director in mind with a certain musical quality to him.
TMNT Director Steve Barron Made Michael Jackson's Billie Jean Video
The Teenage Mutant Ninja Turtles Comic-Con panel is also where Kim Dawson talked about the film's director, Steve Barron. The Irish-born filmmaker would also go on to helm the feature-length Saturday Night Live sketch adaptation Coneheads as well as a 1996 live-action movie based on the story of Pinocchio, but at the time, Barron was best known for directing music videos, most notably the groundbreaking spot for Michael Jackson's "Billie Jean" in 1982. Dawson also mentioned during the panel discussion that hiring music video directors was especially popular in Hollywood in the late 1980s, considering they could work fast and, without DGA accreditation, for cheap.
Teenage Mutant Ninja Turtles Lost US Distribution With Twentieth Century Fox By Newly Replaced Studio Head
One thing that Kim Dawson stressed as an element of great importance to getting Teenage Mutant Ninja Turtles off the ground during the Comic-Con discussion was securing a deal for distribution in the United States, which Twentieth Century Fox's then-CEO Leonard Goldberg agreed to do. However, just weeks before production was to begin, Goldberg was replaced by Barry Diller, who "basically wiped the slate clean" for much of the films Fox planned to distribute, especially TMNT. However, this would lead them in the direction of securing distribution with New Line Cinema.
Uncomfortable Sound Stage Temperatures Caused The Turtle Costumes To Malfunction
The struggle for distribution was just one of many hurdles that the production of Teenage Mutant Ninja Turtles had to overcome, and was nothing compared to what went down on set. Kim Dawson recalls how the the poorly air-conditioned sound stage on which the film was shot would reach unforgiving temperatures of around 105-degrees, which not only proved to be merely uncomfortable for the actors in costumes designed by Jim Henson's creative team, but also problematic to the production. The heat would often cause the "experimental" technology inside the Turtle costumes to malfunction, making the film feel like "going to battle everyday" for the performers.
Raphael Actor Josh Pais Channeled His Claustrophobia Into His Teenage Mutant Ninja Turtles Performance
One actor who was feeling the weight of that "battle," arguably, more than everyone was Josh Pais, whom, according to a retrospective in the New York Daily News, discovered he had claustrophobia while playing Raphael. The actor, who more recently appeared in the Academy Award-winning Joker, mentions how "the intensity of the suit just helped me to generate that experience through the character," which explains the red-masked reptile's frequently angry demeanor throughout Teenage Mutant Ninja Turtles. On the bright side, at least he did not have to go through what the stunt crew did.
Teenage Mutant Ninja Turtles Stuntmen Suffered Many On-set Injuries
During the Comic-Con panel, Kim Dawson mentions how the costumes worn by the stunt performers for Teenage Mutant Ninja Turtles were a "much lighter weight" than the costumes that the main cast of actors were given, but that does mean the production was a walk in Central Park for them either. In a 2014 interview for Variety with Judith Hoag, who played April O'Neil in the original 1990 film, she revealed the following about what what the stuntmen endured:
Teenage Mutant Ninja Turtles screenwriter Bobby Herbeck also has a strange personal story about making film. The catch is that he actually never stepped foot onto the set.
Bobby Herbeck Wrote TMNT At Steve Barron's England Home, Which He Claims Was Haunted
After he was hired to helm Teenage Mutant Ninja Turtles, Steve Barron worked closely with Bobby Herbeck while he worked on developing the screenplay at the director's own home in the English county of Cornwall. While the site proved to be an effective area for Herbeck to write the script without distraction, he revealed during the Comic-Con discussion that living there during that time left him spooked:
Fortunately, Bobby Herbeck was able to endure his fears and finish writing Teenage Mutant Ninja Turtles, which would be his first and last Hollywood screenplay. This would mean that he never got to make his haunted house movie, although he did get to be a production assistant for the 1976 thriller Mansion of Doom, which could have possibly informed ghostly predilections about that cottage.
Steve Barron Was "Basically Cut Out" Of Teenage Mutant Ninja Turtles During Post-Production
Despite director Steve Barron's cruciality to Teenage Mutant Ninja Turtles getting made, especially with his ties to Jim Henson from the original The Dark Crystal, Golden Harvest, the studio backing the production, was not too happy with his vision for the film, believing it to be too dark for children. With no money left for re-shoots, Barron, with Henson's help, attempted to receive funds from then-Disney employee Jeffrey Katzenberg, but behind Golden Harvest's back. When the studio caught wind of this, the director received word that he was being cut from his role with the film.
Judith Hoag Believes Her Criticism Of Violence Cost Her A Role In The Sequel
Another person who seemed to disagree with director Steve Barron's "darker vision" for Teenage Mutant Ninja Turtles was one of its main stars, Judith Hoag. The actress, who played reporter and human friend to the Turtles April O'Neil talked to Variety about a number of issues she had with the movie, including a "horrifying" white jumpsuit she was originally meant to wear. However, violence was her biggest problem, as she explained:
As her above quote implies, Judith Hoag was not asked back to play April O'Neil in the 1991 sequel, Teenage Mutant Ninja Turtles II: The Secret of the Ooze as was replaced by Paige Turco. The most recent actress to play the role in the 2014 reboot and sequel is Megan Fox.
Mel Brooks Is Apparently A Teenage Mutant Ninja Turtles Fan
While Teenage Mutant Ninja Turtles star Judith Hoag, herself, may not be a fan of the movie, Mel Brooks, the legendary icon behind classic movie spoofs such as Blazing Saddles and Spaceballs, loves it. Bobby Herbeck was proud to announce this fact during the Comic-Con panel interview, recalling the time when the filmmaker spotted him in his TMNT jacket and struck up a friendship with the writer. Brooks would later suggest to Herbeck the idea of making a Teenage Mutant Ninja Grandfather Turtles movie in a the vein of a recent animated Saturday Night Live sketch of a similar concept.
What do you think, dudes and dudettes? Will you never be able to watch Teenage Mutant Ninja Turtles the same way again? Let us know in the comments and be sure to check back for additional information and updates on this impressively endurable franchise, as well as even more in-depth looks at the making of your favorite movies and TV shows, here on CinemaBlend.
Your Daily Blend of Entertainment News
Jason has been writing since he was able to pick up a washable marker, with which he wrote his debut illustrated children's story, later transitioning to a short-lived comic book series and (very) amateur filmmaking before finally settling on pursuing a career in writing about movies in lieu of making them. Look for his name in just about any article related to Batman.