Halloween's Director Has Finally Cleared Up One Of The Film's Biggest Mysteries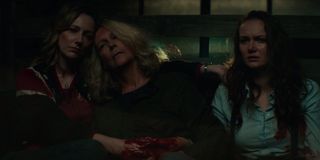 One of the coolest things about Halloween's 2018 revival was the way it brought Jamie Lee Curtis' Laurie Strode back into the fold. By picking up with her years after she first battled Michael Myers, there was a lot that fans missed in her life -- and the movie didn't fill in all the details. Thanks to a quarantine-induced livestream, though, Halloween's director has cleared up one huge mystery about Laurie's past.
The team behind the newest Halloween film made a brilliant choice in retconning the rest of the franchise's installments and creating a direct sequel to the 1978 classic. By refocusing on the original film's protagonist, it brought some of the quintessential magic of that film back. It also meant fans were introduced to the sad reality of the adult Laurie Strode.
At the beginning of Halloween, she isn't doing well -- still dealing with PTSD from her original encounter with Michael Myers, she's drinking heavily, living alone and hiding from the rest of the world. She's been so destructive that she had her daughter Karen, played by Judy Greer, removed from her custody when she was a preteen. Now her only regular connection to the outside world is her granddaughter Allyson.
David Gordon Green and the rest of the Halloween team did a great job of catching us up to speed with Laurie's life so we could understand what was at stake when she finally emerged to fight off Michael Myers one more time. However, there were a few not-so-small pieces of her backstory that the filmmakers didn't get a chance to offer up. Like, for instance, the identity of Karen's father.
Luckily, the director was able to finally give fans an answer during a recent Halloween live-streaming event. The film's cast and crew joined fans to watch the film and tweet out responses under the #HalloweenAtHome hashtag and offer up behind-the-scenes tidbits, and David Gordon Green manned Blumhouse Productions' Twitter account to offer up his own anecdotes. When one fan asked Judy Greer and Jamie Lee Curtis about Karen's dad, he interjected:
Okay, so maybe that's a little anticlimactic. It makes sense why that detail wasn't included in the final cut, though - it's kind-of hard to squeeze a story about a drunken one-night stand in the middle of a bloodbath. By excluding the backstory, David Gordon Green also reinforced the fact that Halloween is really Laurie's story -- what matters most isn't how she became a mom, but that she rises to the occasion when her family needs her the most.
It's probably safe to assume we won't ever really hear about Karen's dad in future Halloween installments. We can expect to see more of Laurie and the family members that matter to her in Halloween Kills, which is currently scheduled to hit theaters on October 16, 2020.
Your Daily Blend of Entertainment News