Olivia Wilde's New Movie Has Shut Down Filming Due To COVID-19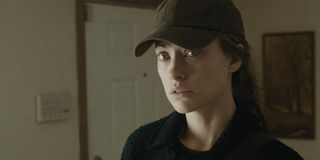 With many film productions ramping back up and putting safety protocols in place to mitigate infection to COVID-19, they still walk a thin tightrope and are constantly at risk of having to shut down. And unfortunately it looks like that's exactly what happened recently with Olivia Wilde's new movie. Here's the latest.
Olivia Wilde, known for her role as Quorra in Tron: Legacy, had hopped into the director's chair for the first time last year with her debut Booksmart, a movie that received wild acclaim from critics. Now, she's back at it with the horror movie Don't Worry Darling starring herself, Harry Styles, Chris Pine, and Florence Pugh. But production for the movie has come to a grinding halt after a production member was tested positive for COVID-19, according to Deadline.
They had been filming in downtown Los Angeles with safety protocols in place when the news broke. Reportedly, the positive test wasn't from one of the main cast members. Once they found out about the test, everyone quickly isolated. The film will be shut down for 14 days per quarantine standards.
What we know about Olivia Wilde's latest movie, Don't Worry Darling, is slim. But, we do know it'll be a psychological thriller set in an isolated, utopian community the 1950s Californian desert. Originally Shia Lebeouf was set to be in it, but due to a scheduling conflict, he had to drop out and was replaced by Harry Styles.
The script was written on spec by Shane and Carey Van Dyke before Olivia Wilde and co-writer Katie Silberman rewrote it. They worked together on Booksmart, and will also reportedly be teaming up once again to tackle a Spider-Woman movie for Marvel. Clearly there's some great chemistry there.
Olivia Wilde's movie, of course, isn't the only one that has had to be shut down recently due to the pandemic. Despite many best efforts to contain the virus with safety protocols in place, some have still had to shut down because a cast or crew member was infected. This is just part of the new safety protocols in place on sets around the world.
In early October, Jurassic World: Dominion had a few positive cases and also had to shut down for two weeks, according to their director Colin Trevorrow. Before that, the cast and crew of The Batman production, starring Robert Pattinson, had to go back in quarantine after a test came back positive. Reportedly, the positive test was Robert Pattinson's.
Of course, some movie productions get shut down for entirely different reasons. Back in June, the movie production Courting Mom & Dad starring Scott Baio didn't comply with "LA County Health Orders and SAG-AFTRA protocols." Due to this, SAG-AFTRA reportedly shut the production down.
It's unfortunate Olivia Wilde's new movie has been temporarily paused, from the little we know, it sounds like it'll be real doozy. Once things get back on track and more details come in, we'll be sure to give you the latest. So, stay tuned.
Your Daily Blend of Entertainment News
Your Daily Blend of Entertainment News
Thank you for signing up to CinemaBlend. You will receive a verification email shortly.
There was a problem. Please refresh the page and try again.