Why Scott Pilgrim's Sequel Is Unlikely, According To Brandon Routh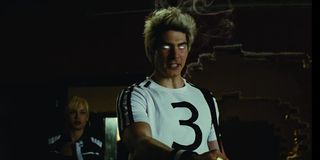 It's been 10 years since Scott Pilgrim vs. The World released in theaters. It was a different time back then with many big actors, like Chris Evans and Brie Larson, still in the early stages of their now successful careers. But after 10 years, could Scott Pilgrim get a sequel? Brandon Routh, who played Todd Ingram, thinks it's unlikely. Here's why.
Scott Pilgrim vs. The World had enormous hype leading up to its release and received generally favorable reviews from critics (though not from everyone), but that didn't lead to box office success. And since then it's garnered a loyal cult following. Brandon Routh was recently asked by the Geek House Show what he thinks the likelihood of a Scott Pilgrim sequel would be from 1 to 10, and Brandon Routh picked 1 and gave a quick explanation:
This is fair. I think Brandon Routh is probably right. While it would be cool to have a sequel, it's doubtful a Scott Pilgrim sequel would be able to get off the ground for a number of reasons aside from what the Legends of Tomorrow actor said.
For one, its box office numbers were arguably too low to justify a sequel. Secondly, it's hard to imagine Edgar Wright wanting to do it since he's moved on to other gigs. And on top of all that, the cast is ten years older and in totally different stages of their careers. It would make much more sense for a studio to reboot the whole thing and start over, but that might be a tough sell to fans as well.
While a Scott Pilgrim sequel is unlikely, that doesn't mean you can't see the cast reunite. This summer much of the cast, including Mary Elizabeth Winstead, Michael Cera, Chris Evans, and Brandon Routh, among others, came together in a video for a table read for the 10th anniversary of the movie. Brie Larson wasn't able to make it, but she showed her support for the film in other ways.
Even though Brandon Routh thinks it's unlikely Scott Pilgrim vs. The World could get a sequel, it's still fun to think about what that might look like if they actually decided to move forward with one. But what do you think? Do you want a Scott Pilgrim vs. The World sequel? Let us know in the comments!
Your Daily Blend of Entertainment News
Thank you for signing up to CinemaBlend. You will receive a verification email shortly.
There was a problem. Please refresh the page and try again.