12 Black-Led Christmas Movies And Where To Watch Them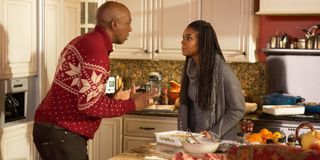 The Christmas season is upon us, which means it's the perfect time to listen to holiday music and watch Christmas movies. Everyone has their favorite holiday or Christmas movie, and though race doesn't play a part in the enjoyment of a movie, sometimes it's nice to see yourself represented on the screen, especially as a young child or young adult looking for validation in representation.
There are a ton of Christmas movies out there (Hallmark brings a new crop of them every year), but many don't feature black-leads (or even leads of varying racial identities or sexualities). It can be limiting, and a bit boring, to not see enough variety on-screen. For this list, I picked Christmas movies featuring black actors in lead roles. I included some popular, well-known films, like The Preacher's Wife and Friday After Next, and a few that might be new to you, like the Marry Me For Christmas film series and The Mistle-Tones.
This Christmas
This Christmas is a holiday movie about the Whitfield family who reunites for the holidays. It's not all Christmas caroling and holiday cheer as some family secrets come to light. This puts even more strain on the holiday season. This Christmas features an all-star cast that includes Loretta Devine, Idris Elba, Regina King, and Chris Brown.
This Christmas effortlessly blends some drama and a whole lot of comedy. The film reminds you that no family is perfect but it's okay to embrace those imperfections and just collectively enjoy the messiness of your family, especially during the happiest season of all.
Stream it on Hulu here.
Rent it here.
Almost Christmas
Almost Christmas tells the story of a family coming together during the holidays after the loss of the family's matriarch. The patriarch of the family grows tired of the family's bickering and makes one request: they all get along. Almost Christmas's cast features Mo'Nique, Danny Glover, JB Smoove, and Gabrielle Union.
Almost Christmas has some iconic comedians, like Mo'Nique and JB Smoove, so those two alone are enough to watch this very funny Christmas movie. The natural comedy abilities of these comedians and the over-the-top situations make it even funnier. Almost Christmas also has some heartfelt moments, which help create a balanced portrait of a family during the holidays.
Rent it here.
The Preacher's Wife
Denzel Washington, Whitney Houston, and Courtney B. Vance star in The Preacher's Wife. It's a remake of a 1947 movie and a book called The Bishop's Wife. Denzel Washington plays an angel named Dudley. He is sent to earth to help a minister and his wife rekindle their romance. Things don't go as planned because Dudley falls for the preacher's wife.
In my book, any movie where we're treated to some Whitney Houston singing is a must-watch. The Preacher's Wife also has the privilege of a charming Denzel Washington in a more comedic role, a rarity these days. The film combines the talents of Washington, Houston, and Courtney B. Vance to create a fun Christmas story.
Rent it here.
Last Holiday
Queen Latifah and LL Cool J star in Last Holiday, a movie about a woman who discovers that she only has a few weeks to live. Georgia (Queen Latifah) has lived a very disciplined and cautious life, but when she discovers that she'll die soon, she decides to finally start living, and that includes pursuing a romance with a co-worker named Sean (LL Cool J).
Last Holiday doesn't have a revolutionary plot--there are plenty of I'm going to die, let me start living now movies--but these types of films are meant to be light and fluffy and remind people of the importance of enjoying life. Last Holiday isn't extremely Christmasy, but the tone and messages are very on-brand with the spirit of cherishing every moment you have and giving love whenever possible.
Rent it here.
The Best Man Holiday
The Best Man Holiday is the 2013 sequel to The Best Man.The main cast reprises their roles as they deal with a new set of issues within their friend group. This is the first time the friends have all come together in 14 years. Some things feel like the good ol' days and other things just don't quite have the same chemistry and feel of the past. The Best Man Holiday cast includes Taye Diggs, Sanaa Lathan, Nia Long, Morris Chestnut, and Regina Hall.
The Best Man Holiday provides a nice continuation of these friend's stories, so fans of the original should be satisfied with this sequel, but those who have no knowledge of the first film should also enjoy this movie because it reminds you of the power of friendship, especially when these friends become family.
Rent it here.
Friday After Next
Friday After Next is the third installment in the Friday series. It once again stars Ice Cube and Mike Epps, like in Next Friday. John Witherspoon also returns for this film. Craig (Ice Cube) and Day-Day (Mike Epps) are robbed by a fake Santa. He steals some presents and rent, all on Christmas Eve. Day-Day and Craig must now attempt to regain that money with jobs and schemes.
If you like the Friday brand of comedy, then you should love this one. It's the same silly comedy just with a Christmas twist. It also has Katt Williams, who you can usually count on for a really good laugh. Your holiday season will be a lot goofier with Friday After Next.
Stream it on HBO Max here.
Rent it here.
Marry Me For Christmas Series
The Marry Me For Christmas series starts with the first film, Marry Me For Christmas. It's about a woman named Marci Jewel (Malinda Williams) who, to appease her family, pretends to date one of her employees. Marry Me For Christmas's cast includes Victoria Rowell, Brad James, Gregory Alan Williams, and Karon Joseph.
The original film sparked four sequels, Marry Us For Christmas, A Baby For Christmas, Merry Christmas, Baby, and Chandler Christmas Getaway. The best thing about these films is that if you find yourself interested in Marci, her love life, or family, then you have plenty of movies to binge. And most are available to rent or stream.
Stream it on Amazon Prime here 1, 2, 3, 4, 5
Christmas Everlasting
Hallmark produced Christmas Everlasting, a Christmas movie starring Tatyana Ali and Dondre T. Whitfield. It also features Dennis Haysbert and Patti LaBelle. In typical Hallmark Christmas fashion, a woman returns home from the big city to her small town. Spending time with a handsome guy and being home with the family makes the Christmas spirit she lost start to grow.
It's a Hallmark movie, so you kind of know what to expect going into it: a bit of cheesiness, a dose of whimsy, and a lot of love and hope. If that's your thing, then watch Ali and Whitfield's characters fall in love again and celebrate Christmas. This one is also fun because it has the legendary Patti LaBelle and Dennis Haysbert.
Rent it here.
My One Christmas Wish
My One Christmas Wish was produced for UP TV. It's based on the true story of a woman who placed an ad on Craigslist to find a family for Christmas. Jackie (Amber Riley) had a difficult childhood. It was full of abandonment and abuse, and though she turned her life around, the loneliness of being an orphan still haunts her, especially during the holidays.
My One Christmas Wish is about the kindness of strangers, resilience, and finding a sense of family and joy in unexpected places. The film definitely is one of those feel-good Christmas movies that makes you appreciate your family and see the world as not so dark and lonely, a reminder that many may need this year especially.
Stream it on Hallmark Movies Now here.
Tyler Perry's A Madea Christmas
Madea (Tyler Perry) returns in this seventh entry in the Madea saga. This film follows Madea as she accompanies her great-niece Eileen (Anna Maria Horsford) to see her daughter, Lacey (Tika Sumpter) who informs her mother that she won't be heading home for Christmas this year. The real reason Lacey plans to skip this Christmas visit is that she's secretly married to Conner (Eric Lively), a white man.
Madea and Tyler Perry have a specific brand of comedy and storytelling, so this won't be everyone's cup of tea. However, if you enjoy Perry's movies and Madea's shenanigans, then this is more or less of the same but with a holiday spin. Additionally, Amazon has the movie available to rent and Perry's play version of Madea's Christmas.
Rent the Play here.
Rent the Movie here.
The Mistle-Tones
Tia Mowry and Tori Spelling star in The Mistle-Tones. The film follows two rival Christmas singing groups run by Holly (Mowry) and Marci (Spelling).
The Mistle-Tones has holiday singing, a love story, and plenty of holiday cheer. It's kind of like a Christmas version of Pitch Perfect. So if you ever thought, "I would like a Christmas movie but give it a singing rival group twist," then Merry Christmas because The Mistle-Tones is the perfect fit for you.
Stream it on Disney+ here.
Buy it here.
Black Nativity
Based on Langston Hughes' play of the same name, Black Nativity follows a young man Langston (Jacob Latimore) as he spends Christmas with his estranged relatives. Black Nativity's all-star cast includes Forest Whitaker, Angela Bassett, Jennifer Hudson, Tyrese Gibson, and Mary J. Blige,
Black Nativity is a musical that explores trying to heal wounds and learning to become a family again. This film reminds people of the importance of family, and to forgive and restore a broken bond.
Rent it here
If you need more black-led movie options, A Diva's Christmas Carol isn't available to stream, rent, or buy in digital form, but it might be worth searching the DVD discount bin to find. A Majestic Christmas is another Hallmark movie featuring black main characters. Netflix recently released Operation Christmas Drop that stars The Vampire Diaries' Kat Graham. Later in November, Netflix will release Jingle Jangle: A Christmas Journey, which stars a variety of black actors, including Phylicia Rashad, Forest Whitaker, and Anika Noni Rose.
Your Daily Blend of Entertainment News
Spent most of my life in various parts of Illinois, including attending college in Evanston. I have been a life long lover of pop culture, especially television, turned that passion into writing about all things entertainment related. When I'm not writing about pop culture, I can be found channeling Gordon Ramsay by kicking people out the kitchen.