10 Most Popular Hallmark Movies For That Feel-Good Mood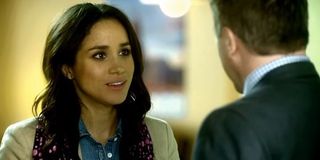 Hallmark movies may not be Oscar contenders, but few studios are capable of delivering sentimental storylines and warm and fuzzy feelings at the end of a film. For those looking for films with less award show buzz and more feel good vibes, we've compiled a list of some of the most popular features the network has to offer. Take a look below, and jot these titles down somewhere safe for when that next movie night comes up.
The Lost Valentine
TV Journalist Susan Allison is tasked with profiling an old woman, whose husband went MIA during World War II. Allison initially treats the old woman's story as a "fluff piece," but after hearing about the life the woman and her husband created prior to his leaving for war, she becomes less skeptical and determined to help her find out what happened to him all those years ago.
Hallmark's The Lost Valentine has two heavy hitting actresses in Jennifer Love Hewitt, who stars opposite the elderly woman played by Betty White. This one has tender moments, a bit of mystery, and folks changing their perspective on love, which has made it one of the more celebrated Hallmark films over the years. There is some sadness in it, but don't worry, it wouldn't have made this list if it all didn't work out in the end.
All Of My Heart
A young woman inherits half of an incredible country home, and leaves her life behind to start fresh on the countryside. Unfortunately, her dream home is co-owned by a pushy Wall Street trader, who would rather sell the house than share it with his housemate. The two butt heads, but as they spend more time together, it becomes apparent that living together may not be so bad after all.
Hallmark's All Of My Heart is part home-renovation/part-romance. Judging from successful shows like Fixer Upper, which led HGTV to make even more home renovation shows, that is all America really wants. Another big plus of this one is that stars Hallmark sweetheart Lacey Chabert, who has done quite a few films for the channel over the years. There's also a smaller role for television legend Ed Asner who, despite his frequent appearance on various shows and films over the years, one can never get enough of.
Harvest Moon
What happens when a rich city girl loses everything and moves out to the country to try and get it all back? One can probably guess, but why not check out Harvest Moon and watch her fall in the mud? Jen may not be the most polished hand, but she's got some ideas to turn the struggling farm around. Farm manager Brett isn't a fan of the changes, but the two see eye to eye before too long.
Harvest Moon is the perfect romp for those who want to appreciate the simple luxuries in life, and a stark reminder that everyone can learn something from each other. It also stars Jessy Schram, who Hallmark fans will know from the Jane Doe TV movies, and others may recognize as Once Upon A Time's Cinderella. She definitely plays up the oblivious city slicker angle to the max in the movie, but it works for a silly one like this.
Love On The Sidelines
Romance films that revolve around football may not sound like the ideal pick for some, but think of this one as more of a way to bait a sports-loving significant other into watching a movie they may not have otherwise. Love On The Sidelines follows a young woman who becomes the personal assistant of a superstar quarterback. The two butt heads at first, but as one might guess by now, that changes over time.
Fans of The Walking Dead may not have seen her in a long time, but there's no mistaking The Walking Dead actress Emily Kinney in this one! As mentioned, this one has hints of football, but not so much that anyone who tries to avoid the sport will be miffed by it being weaved into the plot. It also stars John Reardon, who actually spent some time in college as an all-star football player.
When Sparks Fly
Most people don't enjoy running into an ex when visiting their hometown, but Hallmark movies tend to thrive on that. That's the case in When Sparks Fly, when Amy returns home for the Fourth of July only to get caught up in planning the wedding of an old flame. When her old feelings resurface, she begins to realize her life in the big city may not be as great as a life with her old flame.
Recent events have made When Sparks Fly especially relevant, as it now is a film those in love with the Duchess of Sussex Meghan Markle can enjoy again and again. It's not the only one she's done for Hallmark, but it's certainly one of her best. When there just isn't enough time for a Suits marathon, this is the route to go for a royal fix.
Elevator Girl
Life can change in an instant, and even a simple elevator ride is capable of transforming one's life in a major way. That's the case in Elevator Girl, when two people living two very different lives are brought together and begin a romance. Will their love be enough to conquer the differences between their lives?
Elevator Girl is yet another adventure from former Mean Girls actress Lacey Chabert, and one that will fulfill that fantasy of finding a soulmate through pure happenstance. Just make sure not to hang out in elevators and try to get trapped in them with others in an effort to replicate the film's events.
A Country Wedding
Ahead of his wedding to a famous actress, a country singer returns home to sell his parents' old home. He runs into his childhood sweetheart, and before too long, he's questioning whether or not he's made the right decision in choosing who he'll spend the rest of his life with. Will he reconnect with his old friend, or stay the course and live a life of luxury with his starlet fiancé?
Hallmark's A Country Wedding is the perfect feature for the person who loves John Tucker Must Die, but feels guilty about having a thing for John Tucker afterwards. Jesse Metcalfe gets an opportunity to show off his sweeter side in this one in another story centered on the appeal of simple living when compared to the hustle and bustle of the big city.
The Nine Lives Of Christmas
There's no way we can cover the most feel good films Hallmark Channel has to offer without highlighting at least one Christmas film, so The Nine Lives Of Christmas gets the pick. A firefighter takes in a cat during the holidays, which brings him closer to an available veterinary school student skeptical of love. Together they gain a greater appreciation of cats, and what it means to love.
Did we mention that firefighter is played by Brandon Routh? If there weren't enough to love about that, how often do love stories revolve around a cat? This is definitely one that will give those with felines a warm and fuzzy feeling, and serve as a stark reminder that not all Christmas movies need to have Santa and a child to be cute.
A Crush On You
What happens when a man sends an email to a woman he's infatuated with and it goes to someone else by mistake? A lot. A Crush On You is a modern love story from the digital era, as a man falls in love with a woman who's seemingly different than the emails they've exchanged. Will he ever connect with his true soulmate?
A Crush On You has gotten a lot of acclaim from fans, and its been likened to the You Got Mail equivalent of Hallmark films. That's some credit to Sean Patrick Flanery, who must really lay on that Young Indiana Jones charm to get praise that high. This one also stars former Army Wives and current Runaways actress Brigid Brannagh, who plays a single mother smitten by the emails of her lover.
The Wish List
Is there a defined set of features the perfect man must have? Sarah Fisher believes so, and The Wish List chronicles her struggle to find the man that ticks off all the boxes of her wish list. The effort lands her the man she thinks is Mr. Right, but a new man surfaces that feels so right despite the checklist marking him wrong? What's a girl to do?
Television veteran Jennifer Esposito is at the head of this one, which serves as a cautionary tale about envisioning a soulmate before meeting them. Especially when the list includes a man that doesn't eat red meat and doesn't have dreads. Dreads are part of the fun of being vegan Sarah!
Are there any Hallmark feel-good classics that were left off this list? Let us know in the comments below, and stick with CinemaBlend for all the latest and greatest entertainment news. For a look at what's coming to television in the first half of 2019, visit our midseason premiere guide.
Mick likes good television, but also reality television. He grew up on Star Wars, DC, Marvel, and pro wrestling and loves to discuss and dissect most of it. He's been writing online for over a decade and never dreamed he'd be in the position he is today.
Your Daily Blend of Entertainment News
Thank you for signing up to CinemaBlend. You will receive a verification email shortly.
There was a problem. Please refresh the page and try again.