All The New Hallmark Christmas Movies That Are Coming This Year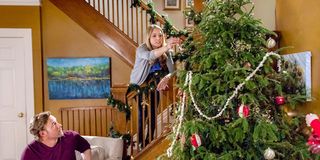 Well, we are quickly approaching the holiday season again, and, for many people, Thanksgiving and Christmas just aren't the same without themed movies to help make the season bright. And, the Hallmark and Hallmark Movies & Mysteries channels are, as usual, doing everything possible to become your destination for all things feel-good during the last months of the year.
This year, across the two channels, a whopping 33 new Christmas films will premiere beginning in late October. What we have for you now, is the complete list of every new movie, along with air date, starring cast, which channel it will appear on and plot synopsis where applicable. Keep in mind that all Hallmark Channel movies will start at 8 p.m. EST/7 p.m. CST and all Hallmark Movies & Mysteries films begin at 9 p.m. EST/8 p.m. CST. So, strap yourselves in, crank up the A.C., grab some hot cocoa (or the warmth-inducing beverage of your choice) and get ready to mark down all the important air dates coming up this fall that will keep you in the holiday spirit through the end of 2017!
Marry Me at Christmas (Hallmark) - 10/28
Stars: Rachel Skarsten, Trevor Donovan
Plot: Organizing a Christmas wedding turns into even more of a dream come true for bridal boutique owner Madeline when she realizes the bride-to-be's brother is her celebrity crush, action star Jonny Blaze.
Christmas Festival of Ice (Hallmark) - 11/4
Stars: Taylor Cole, Damon Runyan, Wendy Crewson
Plot: Legal ace Emma and artist Nick join forces to compete in their hometown's Christmas ice-sculpting contest, and find their lives transformed in many ways.
Miss Christmas (Hallmark) - 11/5
Stars: Brooke D'Orsay, Marc Blucas
Plot: Holly travels to a small New England town looking for the perfect tree for the Washington, D.C. Holiday Tree Lighting ceremony, and when she finds it on land owned by Sam, the two discover some special holiday magic just in time for Christmas.
The Sweetest Christmas (Hallmark) - 11/11
Stars: Lacey Chabert, Lea Coco, Jonathan Adams
Plot: When struggling pastry chef Kylie has to use her old boyfriend's pizza oven to enter a baking competition, their love is renewed, even as her most recent ex takes major steps to get her back.
Enchanted Christmas (Hallmark) - 11/12
Stars: Alexa PenaVega, Carlos PenaVega
Plot: While interior designer Laura is busy with renovations, her young daughter finds joy at a salsa dancing studio which just happens to be run by Laura's former dance partner and high school sweetheart.
Coming Home for Christmas (Hallmark) - 11/18
Stars: Danica McKellar, Neal Bledsoe
Plot: As Allie plans a final Christmas Eve bash for the Marley family she finds herself drawn to one brother as another pursues her, all while trying to help everyone find the true spirit of the season.
A Gift To Remember (Hallmark) - 11/19
Stars: Ali Liebert, Peter Porte
Plot: After life-long romantic Darcy crashes into Aiden and he falls into a coma, she learns more about him and begins to fall in love...until he wakes up, that is, and she has to figure out if Aiden is still the man for her.
Secretly Santa (Hallmark) - 11/22
Stars: Emilie Ullerup, Aaron O'Connell
Plot: Melanie's excited to be assigned Secret Santa duties for her office crush Donovan, but when he begins to fall for the one giving him gifts and someone else decides to take credit, Melanie has to step up and prove that she's the right one for him.
The Mistletoe Inn (Hallmark) - 11/23
Stars: Alicia Witt, David Alpay, Casey Manderson
Plot: Aspiring romance novelist Kim heads to a writing retreat in Vermont shortly before Christmas, and is astounded by how she manages to step outside her comfort zone both in the writing exercises and in her growing attraction to fellow writer Zeke.
Finding Santa (Hallmark) - 11/24
Stars: Jodie Sweetin
Plot: When Jessica begins running her town's Christmas events, she soon realizes that she'll have to travel 200 miles north to find someone to play Santa on short notice, and, as she and Ben travel to her hometown, they both find the spirit of the season as they get to know each other.
The Christmas Train (Hallmark) - 11/25
Stars: Dermot Mulroney, Danny Glover, Joan Cusack, Kimberly Williams-Paisley
Plot: When a journalist takes a cross country train trip during the holidays he rediscovers the goodness in people, holiday magic and a long-lost love.
Switched for Christmas (Hallmark) - 11/26
Stars: Candace Cameron Bure
Plot: When estranged twin sisters decide to swap lives after a pre-Christmas lunch, they each discover a true appreciation for what they already had.
Christmas in Evergreen (Hallmark) - 12/2
Plot: The residents of Evergreen, Vermont believe that wishing upon the snow globe in the local café will make your wildest dreams come true, and when the town veterinarian wishes for her most romantic Christmas ever she might actually get way more than she asked for.
Christmas at Holly Lodge (Hallmark) - 12/3
Stars: Alison Sweeney
Plot: When Sophie decides to spend her Christmas at the Evergreen Inn and Ski Lodge, she meets a wonderful family that will change her life forever.
Christmas Shop (Hallmark) - 12/9
Plot: Anna's company wants to buy an old building, but one tenant, Michael, the owner of an old-fashioned Christmas shop, tells Anna he'll only consider selling if she works with him for a week. When she agrees, Anna's forced to make a big choice that will change the direction of her life.
Christmas Encore (Hallmark) - 12/10
Stars: Maggie Lawson, Brennan Elliott
Plot: When a struggling actress is cast in her last off, off Broadway show before leaving her dreams behind and moving home, she finds love with the director and looks for a Christmas miracle when the theater threatens to close prematurely.
Christmas Shuttle (Hallmark) - 12/16
Plot: When 8-year-old Henry meets engaging flight attendant Megan on his solo trip to see his dad for the holidays, he decides to play matchmaker for the two adults.
Father Christmas (Hallmark) - 12/17
Plot: When workaholic divorced dad Eric gets laid off two weeks before Christmas, he decides to throw himself into quality time with his three kids and, after falling for his daughter's teacher, Kate, realizes he's used work to avoid personal relationships.
Christmas Getaway (Hallmark) - 12/23
Plot: When Emory takes the Christmas vacation that was planned for her and her former boyfriend, she ends up spending the trip with a widower, his daughter and mother-in-law, and what begins as an annoyance will turn into a holiday she'll hold dear forever.
When Calls the Heart: The Christmas Wishing Tree (Hallmark) - 12/25
Stars: Erin Krakow, Daniel Lissing, Lori Loughlin, Martin Cummins, Jack Wagner, Pascale Hutton, Kavan Smith
Plot: The beloved characters of the series help a young Mountie who's looking for Christmas inspiration with an enchanted wishing tree.
New Year's Gala (Hallmark) - 12/30
Plot: When Robin admits to her co-worker Todd that she's never kissed anyone at the turn of a new year, he makes it his mission to find someone for her to smooch as the clock strikes 12, but could the perfect guy end up being closer than either of them expect?
Mr. Christmas (Hallmark Movies & Mysteries) - 11/4
Stars: Sam Page, Tara Holt
Plot: Tom's business is centered on helping clients find the perfect gifts for loved ones, but when his best friend asks for help finding a gift for his girlfriend Jenny, Tom finds himself caught between his heart and his best friend.
Christmas In The Air (Hallmark Movies & Mysteries) - 11/5
Stars: Catherine Bell, Eric Close
Plot: Ambitious professional organizer Lydia decides to give love a real shot when she meets Robert, a widower with two young kids who has only 12 days to get his professional and personal lives in order.
A Song For Christmas (Hallmark Movies & Mysteries) - 11/11
Stars: Rebecca Tobin, Kevin McGarry
Plot: Singer Adelaide takes refuge from her superstar life on a Pennsylvania farm with the Lapp family, and, just as oldest son Dillon plans on profiting from her time there, he realizes that she's worth more to him than any money a tabloid could offer.
Engaging Father Christmas (Hallmark Movies & Mysteries) - 11/12
Stars: Erin Krakow, Niall Matter, Wendie Malick
Plot: Ian thinks he has the perfect, romantic proposal planned for Miranda, but it's too bad that even the best laid plans sometimes don't pan out.
Christmas Homecoming (Hallmark Movies & Mysteries) - 11/18
Stars: Julie Benz, Michael Shanks
Plot: When a military widow and an injured Army captain team up to save a town's military museum, they find themselves healed by the magic of the season.
A Bramble House Christmas (Hallmark Movies & Mysteries) - 11/19
Stars: Autumn Reeser, David Haydn-Jones, Teryl Rothery
Plot: Finn goes under cover to find out why his recently deceased dad left $50,000 to his nurse, Willa, and quickly finds himself falling for her. But, when she finds out who Finn really is and why he's there, will she be able to trust him again?
A Joyous Christmas (Hallmark Movies & Mysteries) - 11/26
Plot: When down-on-her-luck Joy saves a woman from an accident, the woman learns that helping people is the key to success as well as true love.
Christmas In Angel Falls (Hallmark Movies & Mysteries) - 12/2
Stars: Rachel Boston, Paul Greene
Plot: While trying to bring back Yuletide cheer in the residents of Angel Falls, the angel Gabriel befriends skeptic Jack and sets off down an unexpected path.
Unbridled Love (Hallmark Movies & Mysteries) - 12/3
Plot: All does not go smoothly when Graham, a Hollywood superstar, uses Sarah's ranch as the location of his new movie.
When God Winks (Hallmark Movies & Mysteries) - 12/9
Stars: Kathie Lee Gifford
Plot: This true story showcases the many ways in which God makes wonderful things happen in our lives every day.
The Christmas Cottage (Hallmark Movies & Mysteries) - 12/10
Plot: Young Lacey has already given up on love, but when she gets snowed in at a cottage that supposedly leads newlyweds to have a lifetime of love and happiness with her BFF's brother, Charlie, she starts to reconsider.
Karen Kingsbury's Maggie's Christmas Miracle (Hallmark Movies & Mysteries) - 12/16
Plot: High-powered lawyer and single mom Maggie gets the chance to reconnect with the man she once spent a magnificent summer with when they were teens.
The Magical Christmas Ornaments (Hallmark Movies & Mysteries) - 12/17
Plot: Marie's love of the holidays is rekindled when her mom sends her a different family ornament every day and as Marie reads to children at a local hospital, where she meets attractive nurse, Nate.
For more information on all of these original Christmas movies, be sure to check out the Hallmark Channel Holiday Movies Preview and Hallmark Movies & Mysteries Most Wonderful Movies of Christmas Preview! And, to keep up with all of the non-holiday themed entertainment coming your way on the small screen in the coming months, bookmark our fall TV premiere guide and Netflix premiere guide!
Your Daily Blend of Entertainment News
Yennefer's apprentice, Gilmore Girl; will Vulcan nerve pinch pretty much anyone if prompted with cheese...Yes, even Jamie Fraser.
Your Daily Blend of Entertainment News
Thank you for signing up to CinemaBlend. You will receive a verification email shortly.
There was a problem. Please refresh the page and try again.