The Biggest Concern For Angelina Jolie And Brad Pitt As A-Listers, According To Former Bodyguard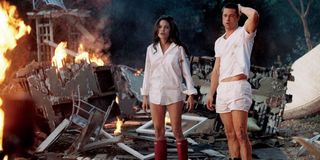 Being an A-list celebrity has plenty of perks, but there are drawbacks, too. Living life in the spotlight can take a toll and, for some stars, it can even become dangerous. According to Brad Pitt and Angelina Jolie's former bodyguard, the pair faced plenty of challenges while they were together -- but their biggest concern was always keeping their family safe.
Mark Billingham worked for years as a Hollywood bodyguard, keeping numerous celebrities safe. Two of his most famous clients were Brad Pitt and Angelina Jolie -- and he told Australian publication Now To Love that it was clear what their biggest priority was when it came to safety:
It's easy to understand why that would be the case. Brad Pitt and Angelina Jolie were both huge stars in their own right before they met. From Seven and Ocean's Eleven to the Oscar-winning Girl, Interrupted and Lara Croft: Tomb Raider, both actors had given performances -- and lived private lives -- that made them two of the most talked-about actors in Hollywood.
When they teamed up for 2005's Mr. and Mrs. Smith, it was huge. Speculation ran wild about their relationship, and the attention only grew after they went public. In short, their coupling instantly made them one of the most high profile couples in Hollywood history.
While they were together, Brad Pitt and Angelina Jolie co-parented six children together. They adopted Maddox, Pax, Zahara and Shiloh, and Angelina Jolie gave birth to their twins Knox and Vivienne in 2008.
Given the high-profile nature of their lives, it's difficult to keep their children out of the spotlight. Naturally, that means there's an increased risk of danger. Paparazzi aggressively pursued the family, turning them into a tabloid fixture -- which meant all six children's faces became easily recognizable to people all around the world.
Having bodyguards like Mark Billingham on hand to keep potential threats away is likely one of many precautions both parents have taken to insure their children's continued safety. After Angelina Jolie filed for divorce from Brad Pitt in August 2016, citing irreconcilable differences, their custody battle over the children has highlighted the importance of the well-being of their children.
While there is some contention as to what exactly that means, both parents have remained firm that they have their children's best interests in mind. In fact, it appears to be one of the primary reasons their divorce still isn't finalized yet. Regardless of the outcome of their divorce proceedings, the Jolie-Pitt children's safety will still play a vital role in both parents' lives.
Your Daily Blend of Entertainment News