Dwayne Johnson Celebrates Moana Milestone With His Daughter In Sweet Video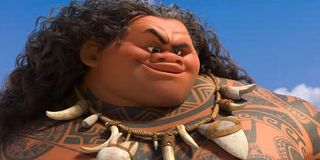 Dwayne Johnson has truly mastered the art of communicating with his fans on social media. He's found a way to balance flexing his achievements and keeping it humble, all the while letting us behind the scenes of his amazing life. That was definitely the case when he shared a sweet video of himself and his daughter celebrating an awesome milestone for his movie, Moana.
For those of you who haven't been keeping tabs on Dwayne Johnson's social media activity lately, he's been keeping pretty busy. During the spring, when the COVID-19 pandemic forced production to shut down on his film Red Notice, he took to Instagram to answer fans' questions. Later, he made sure to remind fans to be careful after he and his family contracted the virus.
He's also taken time to share some career milestones -- including, most recently, an exciting and perhaps unexpected achievement surrounding his 2016 Disney film Moana. He took to Instagram to share his surprise at learning the song his character Maui sings, "You're Welcome," went quadruple platinum.
As humble as ever, Dwayne Johnson was quick to give credit where it was due, first shouting out one of the song's most famous co-writers:
He was also sure to thank those that have made the song such an enduring, modern Disney classic:
He reserved the bulk of the post, though, to pay tribute to a special someone who's found plenty of joy in hearing Maui's now-famous song:
Fans who have been following Dwayne Johnson on social media likely won't be surprised that he mentioned his daughter. Over the past few months, he's chronicled the ongoing saga of her loving Moana and Maui but refusing to believe that her dad is actually the one who plays him on the screen.
He finished the post with a clever nod to the song, telling his fans "you're welcome" -- and fans that clicked through the post were treated to a clip of Dwayne Johnson and Tia performing a duet of the song. Take a look at the genuine (and genuinely adorable!) update in its entirety below:
It's hard to say how long "You're Welcome" will continue to rack up achievements -- or how long it will take for Dwayne Johnson to convince his daughter he is, in fact, the real-life Maui. Regardless, this is a nice accomplishment for the loving dad and his daughter to share.
You can revisit "You're Welcome" and other Moana songs by streaming the film on Disney+.
Your Daily Blend of Entertainment News